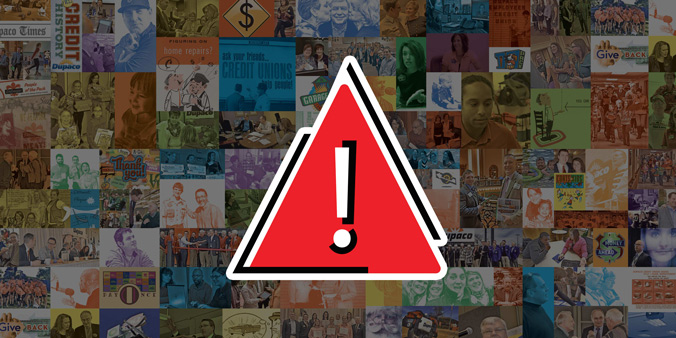 Were you contacted about card fraud?
Updated Jan. 22, 2021, at 1:50 p.m. CT
If you get a call about potential debit or credit card fraud on your account, hold the phone—it might not be who you think it is.
Some Dupaco Community Credit Union members have recently heard from fraudsters falsely claiming to be with the credit union.
Ironically, the fraudsters claim to be calling about possible card fraud. It's a vishing scam. Their goal: Talk you into giving them private information that gives them access to your Dupaco accounts and, ultimately, your money.
Learn how to avoid this scam and protect your money:
How the card fraud scam works
Fraudsters can make it appear as if they're calling from a Dupaco phone number through a tactic called spoofing.
"You can't trust your caller ID. It's very easy to fake," said Dupaco's Jim Bemboom, assistant vice president, card services.
The fraudsters identify themselves as Dupaco employees and say they're calling to discuss potential fraud on your debit or credit card. In a ruse to "help" you, they ask for personal account information, which might include your debit card PIN, Dupaco security password and more.
"A lot of times, they say your online banking is compromised, too, so they try to get you to share your online banking password," Bemboom said. "They make it look like they're verifying your recent card transactions because they logged into your account with your password."
Fraudsters have even gone as far as setting up travel notices so that members' cards would continue to work out of state.
Unfortunately, it can be costly if you fall victim to this scam.
If you give out your debit card PIN, it's considered a verified transaction. That means you're ultimately responsible for any money taken from your account.
How to spot the scam
Fraudsters can be tricky. And pushy.
"Fraudsters will do their best to lull you into a sense of security to get you to let your guard down," Bemboom said.
They also might threaten or bully you. Oftentimes, they'll tell you they are going to report you to the police or the credit bureau if you don't comply. So, how can you tell if it's Dupaco or a fraudster on the phone? Knowing what you can expect—or, rather, what not to expect—from your financial cooperative can help you spot a scam.
We don't need your full card number
"If we're calling you about potential card fraud, we already have your full card number, so we would never ask you for that," Bemboom said.
We won't ask for your PIN
Your debit card PIN is yours and yours alone.
Never share it. Ever.
"Giving out your PIN is like giving someone cash," Bemboom said. "We will never ask for that."
Fraudsters might tell you that they need your PIN to update it since your card has been compromised. It's a lie.
You're the only one who can change your PIN. If you've shared your number, you should immediately change it. Call Dupaco at 800-373-7600 for steps on how to do so.
We won't ask for your online password
Your Shine Online and Mobile Banking password also only belongs to you. And Dupaco will not ask for it.
We don't need your two-step verification code
The extra security feature helps prevent fraudsters from accessing your account—even if they manage to get your password.
In addition to your username and password, you enter a unique four-digit security code—sent via text or email—each time you log in.
Dupaco will never ask for that security code. But fraudsters might.
"Fraudsters logged in and asked members for their two-step verification codes," Bemboom said. "We would never do that."
Trust your gut
If you're concerned that the caller might not be from Dupaco, trust your gut. Hang up, and call Dupaco directly.
But don't use any phone number that the caller might have given you. Instead, call your credit union at 800-373-7600, and ask if Dupaco was trying to contact you.

Continue monitoring your accounts
As always, watch your financial accounts for unusual activity. These steps can help you continue to keep your accounts and identity safe:
Set up activity alerts
Stay on top of your Dupaco accounts with eNotifiers.
Within Shine, you can set up alerts to receive instant notifications for ATM and Visa credit card transactions, online and mobile banking logins and more.
This way, if there's fraudulent activity on your accounts, you're the first to know.
Monitor your credit
With Dupaco's Bright Track, you can keep tabs on your full credit report and credit score anytime. The free credit monitoring service will alert you to any potential breaches that hit your credit report.
You can access the service within Shine.
Use strong passwords
Use strong passwords and passcodes that aren't easily guessed.
Use identity theft coverage
As a member of Dupaco, you have access to Family ID Restoration. The coverage helps you recover from identity theft. It costs $1.95 per month.