Keep tabs on your credit score.
It's easier to qualify for better rates on both loans and insurance when you have a good credit score. Bright Track complements the one-on-one, personal service provided by Dupaco credit experts through Credit History Lessons and Credit Coach. And it's a free, member-only benefit! Sign up or log in to your Shine account to start monitoring and improving your credit score.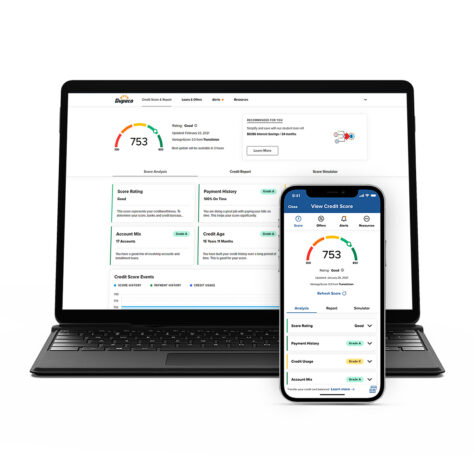 What is Bright Track?
Bright Track is a tool in Shine Online Banking that helps you monitor your credit report, allowing you to better guard against identity theft and keep tabs on your financial life to pay less and save more.
Access your current credit score and report for free.
Understand and evaluate the areas that influence your credit score.
Get access to personalized money-saving recommendations.
See the potential impact of opening new accounts or paying off balances.
Understand why your credit score falls where it does.
Get tips on practical ways to improve your score.
Getting Started
Bright Track is a special tool just for Dupaco members. It is available to personal account holders aged 18 or older. Getting started with Bright Track is easy. Just follow these steps:
Click on the Bright Track graphic located on the right side of your Account Summary page.
Read and accept the terms and conditions of use*.
Answer 3-4 questions to verify your identity. These questions are from your credit report and are answers only you should know.
You're ready to go! Now you'll see your credit score on your account summary page each time you log in to Shine. To see details and recommendations, just click on your score.
*If you accept Bright Track's terms and conditions of use within your Shine Online Banking account, AND you shared your Shine login credentials with your joint account owner, spouse, friend, or family member, that person will be able to view your Bright Track credit score information. To DISABLE Bright Track access within your Shine Online Banking account, please contact us at 800-373-7600 or disable Bright Track access within Shine via the Profile tab. If you do not want to disable Bright Track, then no action is required.
Not a Dupaco member?
Open a Dupaco Share Savings account with as little as $25 and you'll automatically become the newest Dupaco member-owner! In addition to Bright Track, a Dupaco membership gives you immediate access to many more benefits and perks. Opening your account is simple — follow the secure link below or stop into your nearest Dupaco branch.