Business Construction Loan
Commercial financing is the cornerstone of your new construction
Whether you're ready to break ground at a new site or give your current building a facelift, a commercial construction loan can support your next exciting milestone.
From blueprint to reality
 A business construction loan is your key to turning blueprints into reality. Here are just a few ways you can harness the power of a construction loan to propel your business forward:
Ready to apply? Here's how:
Prepare your application
To apply for a business construction loan, you'll need to provide:
3 years of personal and business tax returns
Build-out and construction costs
Completed loan application & personal financial statement (PFS)
Download loan application & PFS
Hint: If you're buying, we'll need a purchase agreement.
Submit your application
Upload your completed application, personal financial statement and supporting documents for review. Then they'll be sent to our lending team for review!
Hint: You can drop off your application and supporting documents at your nearest branch, too!
Other documents may be requested after time of application. Guarantees are required.
Crunch the numbers
Calculate the cost of a construction loan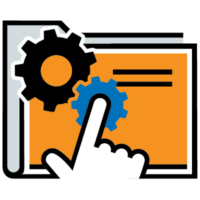 Business Resource Center
Resources to help you make the business of running your business easier
Starting—and running—a business is a labor of love. But you don't have to do it alone. Use our free resources to help you every step of the way.