What's a Credit Coach loan?
Our Credit Coach Loan is an important part of the program. The money you borrow is secured in your savings account for the term of the loan. Think of your loan payments as an opportunity to become a saving rock star. Once it's paid off, you'll have access to the funds and a stronger credit score! Here are the details:
Borrow up to $1,500 at a low 8.95% APR1
Repayment terms up to 12 months
We'll deposit your funds into a Dupaco Savings account, where it will earn dividends
1For a $1500 loan for a term of 12 months with a 8.95% APR, the monthly payment will be $131.14.
How do I know if the program is right for me?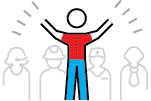 Kick off your financial game plan today!
Schedule a free, no-obligation Credit History Lesson by calling 800-373-7600, ext. 305 or by completing the form below!