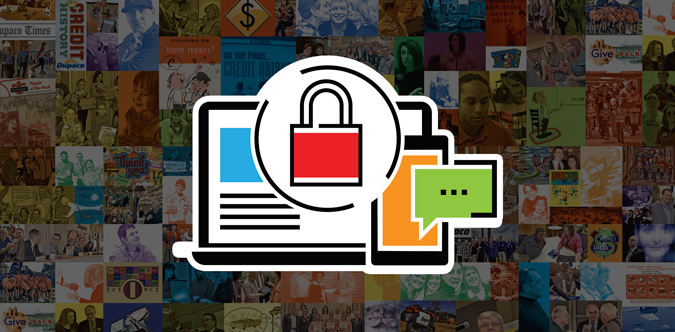 How to spring clean your passwords
By Camilo Ruiz
Network security analyst at Dupaco Community Credit Union
Spring cleaning doesn't have to be limited to your home.
Your passwords also need tidying from time to time to protect you and your accounts from identity theft and fraud.
How do you tidy your passwords? Here are eight guidelines to follow that will help keep your accounts protected.
8 guidelines to help keep your accounts protected
|1| Use passphrases.
Rather than using a single word, combine words to create a passphrase to make it more difficult for fraudsters to break into your accounts.
|2| Use a trusted password manager tool.
Using a different complex password for every account can feel daunting. But there are several password manager tools, many of which are free for personal use, that can help you keep your passwords in one secure location. Two popular ones: LastPass and Keeper.
|3| Use numbers and special characters.
Within each passphrase, incorporate at least one number and one special character to make your password even stronger.
|4| Use different passwords.
Use a different password for every website, social media account and financial account you use. Sure, it's more work for you. But it's also more work for fraudsters. For the same reason, don't reuse old passwords.
|5| Regularly change your passwords.
If you haven't updated your passwords in the past six months, or you're still using weak ones, it's time to swap them for new, more secure passwords.
MORE: Here are the 50 worst passwords of 2018, compiled by SplashData.
|6| Enable two-factor authentication.
For your more important accounts, especially your financial ones, take advantage of two-factor authentication, an added layer of security that requires an additional step once your password has been entered. For example, when you enable Two-Step Verification within Dupaco's Shine Online and Mobile Banking, you're sent a four-digit code when you sign in. You can choose to skip the code for future sign ins on the device or continue to require a code for each sign in.
You can enable this feature via the Profile tab located on your Shine menu.
|7| Activate login notifications.
Activate Short Message Service (SMS) or email notifications to alert you when your accounts are accessed, your passwords are changed or other security measures are taken within your accounts. This option, along with other eNotifier Alerts, is available within Dupaco's Shine Online and Mobile Banking.
|8| Go directly to websites to sign in.
If you need to access an online account, always type the website into your browser and sign in from the website, rather than clicking links provided to you in emails. For example, if you need to check the status of an Amazon order, type amazon.com into your web browser and sign in there instead of trusting the email that appeared to come from Amazon. This will help you prevent becoming a victim of a phishing scam.