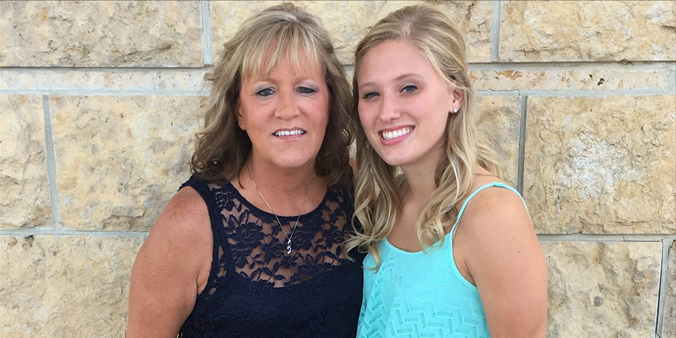 Dupaco member Jenna Bartell and her mom, Jolene Stienstra.
How one Dupaco member is finding hope after loss
HAZEL GREEN, Wis.—You can hear the smile in Jenna Bartell's voice when she talks about her mom.
"Mom loved camping. She loved being with friends and family. And she never wanted to be home," said Bartell, of Hazel Green. "Every Sunday, she'd say, 'Let's go do something.' "
And Jolene Stienstra would find something to "go do."
But last year, Bartell lost her mom after a courageous battle with lung cancer.
"She was always willing to help other people, no matter what was going on in her life," Bartell said. "She stopped everything for everybody."
After her mom's passing, Bartell was the one who needed help. And a reassuring hand.
Navigating the loss of a loved one
Bartell reached out to her financial cooperative, which had been there for her and her mom before.
Dupaco's Tiffany Brandt helped her set up appointments, sort through paperwork and connect with First Community Trust's Jim Liddle. As a team, Brandt and Liddle helped the grieving daughter navigate all the financial responsibilities that come with the loss of a loved one.
"I didn't know what I wanted to do, and I didn't know how to do it," Bartell said. "I'm an only child, and there was a lot of stuff to work through. But it took a lot of weight off my shoulders because I knew I could trust them to help me with it."
Looking toward a brighter future
Through the process, Liddle helped Bartell start looking toward the future.
They created a plan to help her save for retirement, helping her feel more secure about her future.
Learn how to save for your retirement
They've also shared in some of life's sweeter moments. Since her mom's passing, Bartell married her fiancé, Jesse Bartell, started planning to build a house and, most recently, learned that their family's growing by one.
"I was finally able to tell Jim about the baby at our last meeting," she said. "He's so smart but so personable with everything that he does. It makes you feel a lot more comfortable with your money and everything in life in general."