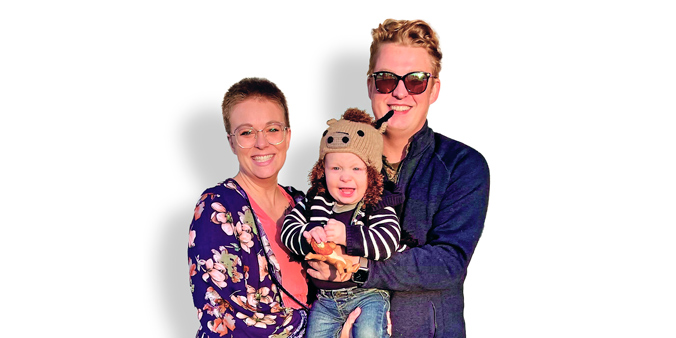 Dupaco members Breanna Parker (left) and Jordan Abbe are setting their sights on future dreams for their Waterloo, Iowa, family, which includes their son, Jettson.
A member story: On the road to financial stability
WATERLOO, Iowa—It wasn't all that long ago when Breanna Parker and Jordan Abbe lived paycheck to paycheck.
"We always lived in fear and anxiety of something going wrong and not having the money to pay for it," Parker said.
The Waterloo couple's uncertainties grew when Parker was dealt with a pandemic-related layoff as they prepared to welcome their first child.
Something had to give.
Seeking financial stability
In search of financial stability, they turned to Dupaco Community Credit Union. And today, things are looking up for the young family.
"Any time I've had questions, there's always someone there to answer them," Parker said.
The financial cooperative guided the couple through buying their first home. They adore their house's original woodwork, stained glass windows and all the charm that comes with an older home.
More importantly, it's a place to call their own and raise their son, Jettson.
"It means the world to be able to make our house a home and have the freedom that comes with owning your own home to make it yours," Parker said.
She's since found a new job. And it allows her to be home at night with her little boy.
"My favorite is probably right after bath when we get him in his jammies and he starts winding down for the night," the mother said. "We snuggle up and read a few books before heading off to rock him to sleep."
Buying your first home? Check out these 8 tips >
'We can breathe a little easier'
During the homebuying process, Parker met with Dupaco Insurance Services to talk about their homeowners and auto insurance. She had long tried to lower her premiums with her previous agency.
DIS helped her cut their insurance payments in half.
Request a free insurance quote
And those savings are now helping Parker and Abbe put more money toward their dreams: A savings fund for Jettson. A vacation fund for their dream trip to Alaska. A rainy-day fund, knowing that the unexpected can happen.
"We're finally in a more stable position. We can breathe a little easier now that we have a little nest egg there to protect us," Parker said. "We'll see where life takes us. But we feel like we'll be OK. And it means everything."