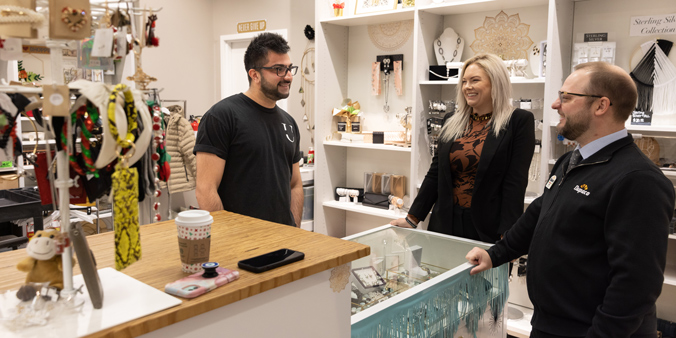 Dupaco member Karan Dhawan (left) catches up with Dupaco's Amber Thach and Chris Gierut at his boutique in Merle Hay Mall in Des Moines, Iowa. (S. Morgan photo)
A member story: 'The future looks bright'
DES MOINES, Iowa—Karan Dhawan is happiest when he's on the move, working seven days a week.
"I'm all in," he said.
Dhawan moved to Des Moines from India about a dozen years ago. And his love of learning and drive to be successful have led him to pursue many passions.
One of his goals? He wants to be able to help others in need if they come to him.
"It's one life. If we can help, we should," he said.
And he's finding success through his strong work ethic and a new partnership with Dupaco Community Credit Union.
When Dhawan isn't at his full-time job, he's often at his Des Moines boutique, Always Undercover. The store offers clothing and accessories. He credits his family, who's worked in the clothing industry for decades, for his interest in the business.
And when he's not at the store, Dhawan explores other opportunities.
With the help of his friends, Dhawan has renovated two homes. He lives in one house and uses the other for rental income.
"When you find the differences between your wants and needs, life starts to get better," he said. "There's been a lot of sacrifices. I worked 12 to 14 hours a day to save for my first down payment on my house."
In 2022, Dhawan followed his lender, Amber Thach, to Dupaco.
"Now I'm a member of your amazing community," he said.
Thach guided him through his most recent home purchase, and Dupaco's Chris Gierut helped him save money on his auto loan.
The monthly savings has allowed him to put more money into his business and focus on his other goals.
"It's going to be a good team going forward," Dhawan said. "The future looks bright."