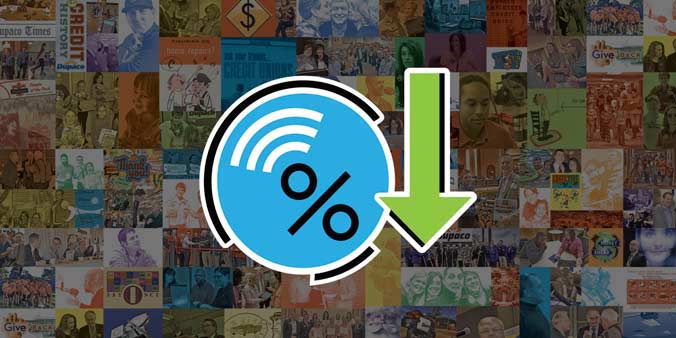 How the federal interest rates impact you
The Federal Reserve Board announced an emergency rate cut Sunday—lowering federal funds interest rates to near zero—in response to the coronavirus COVID-19 pandemic.
It was the second emergency cut in as many weeks. And it's aimed to help bring stability to the economy.
The Fed, tasked with fostering employment and price stability, said this action will help support economic activity, strong labor market conditions and inflation.
In its statement issued Sunday, the Fed said:
"The effects of the coronavirus will weigh on economic activity in the near term and pose risks to the economic outlook. In light of these developments, the Committee decided to lower the target range for the federal funds rate to 0 to 1/4 percent. The Committee expects to maintain this target range until it is confident that the economy has weathered recent events … "
So, what does this mean for you?
The interest rates you pay for things like credit cards and auto loans will likely start to drop—but not immediately.
"For members with existing variable-rate loans, the reduction will limit your borrowing costs at the next adjustment, which hopefully improves your cash flow directly, or it helps more of your payments go to principal and less to interest, which frees up your borrowing capacity going forward," said Chief Operating Officer Matt Dodds.
On the flip side, the Fed's rate decisions can also impact the amount of interest you earn as you save.
"We will continue to closely monitor the market so we can take care of our members," Dodds said.
Whether you're borrowing or saving, Dupaco continues to have your best interest in mind.
Here are six ways the Fed's rate changes can impact your money at Dupaco:
Credit card rates
Credit cards typically have variable interest rates, which are tied to the prime rate. The prime lending rate moves in line with changes to the federal funds rate. And financial institutions use the index to set rates on many types of loans, including credit cards.
In the next couple of weeks, you might see credit card interest rates start to drop, according to Meggan Heacock, vice president, controller.
This can offer some interest savings or payment relief, depending on how your credit card issuer sets minimum funds, if you're unable to pay off your credit card balances in full each month.
Home equity line of credit
If you have a home equity line of credit, it also comes with a variable interest rate and can be tied to the prime rate.
That means you might eventually start paying less interest on this loan as well, Heacock said.
Student loans
There are fixed- and variable-rate student loans. If you're repaying a variable-rate loan, you might soon feel some payment relief.
Not sure how your student loans are structured? Consider reaching out to Dupaco to make sure you're borrowing an amount that fits your budget.
Personal and auto loans
While personal and auto loans aren't directly tied to the Fed's rate changes, these rates are also likely to fall eventually.
"Variable-rate loans have to adjust, but the market will start demanding that fixed-rate loans come down, too," Heacock said.
Mortgage loans
Mortgage rates are typically benchmarked to the 10-year Treasury yield. Even so, mortgage rates, like other loan rates, are intertwined with the market, Heacock said.
Even before the Fed's latest emergency rate cut, mortgage rates had been steadily dropping.
If you're a homeowner, refinancing your mortgage into a lower rate has the potential to offer big savings. And many homeowners are asking to do just that.
With more members requesting to refinance their mortgage, you might experience delays during the process.
That's why Dupaco temporarily updated its Mini-Mortgage terms. Mini-Mortgages take less time to complete and are light on closing costs.
This shorter-term loan is meant for you if you're looking to borrow just what you currently owe on your home with a fixed rate of 15 years or less. Previously, this loan was only available for terms of 10 years or less.
"That change was made last week, and we're starting to see members take advantage of these loan enhancements," Dodds said.
You can pay off your Mini-Mortgage biweekly, effectively lowering your interest rate even more.
Saving and certificate rates
When rates drop, borrowers generally win in the form of lower interest on their loans. But savers can face lower interest earnings on their deposits. The positions shift when interest rates rise.
During times like this, Dupaco tries to bring loan rates down first and then evaluate its above-market savings rates, Heacock said.
"Certificate rates are the most fluid, so those are expected to continue to come down with the market," she said. "We're trying to hold our savings rates up as long as possible to reward our savers. We're working to keep our rates steady, consistent and strong for our members."
Eventually, the market demands that if a financial institution is receiving less in loan interest, it must pay out less in deposits to help offset the decrease. Ultimately, this helps keep the credit union strong for its members, Heacock said.
"We were here for our members during the 2008 recession, and we're going to be here for our members now," she said. "We remain competitive with the market."
Learn why your money is still safe at Dupaco >
What you can do
If you're repaying high-interest loans, now is the time to see whether your credit union can help you move into a lower-rate option.
The move might help give your budget breathing room, which in turn can help you get ahead, Dodds said.
"Trust us during this difficult time," Heacock said. "We'll have your back. And we'll take care of you the fairest way we can during these market conditions."