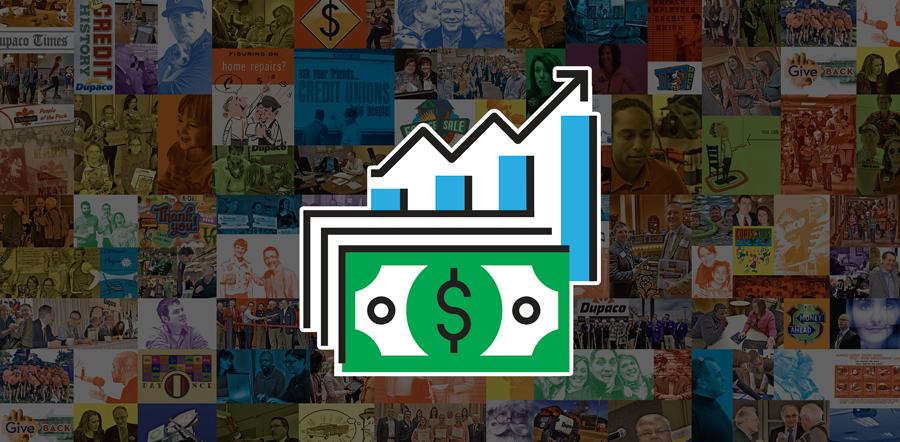 Share certificate or CD investment: When to cash in early
When you save through a CD investment or term-share certificate, you're usually in it for the long haul. That's because you'll pay penalties for breaking the terms of your certificate early.
But sometimes leaving one certificate in favor of a higher-rate option is in your best interest—literally.
Here's what you should know about how this savings tool works and when it might pay to cash in early.
How certificates and CD investments work
Term-share certificates are the credit union version of bank CDs. They reward you for taking a deliberate approach to saving for a set period of time.
Certificates usually earn a higher interest rate than normal savings accounts. And the money compounds interest throughout the term.
Dupaco offers certificate terms as short as six months and as long as 60 months, as well as other specials, and automatically renew at the end of the term. Typically, the longer your term, the higher your interest rate will be.
Certificates can be a worthwhile way to save for larger purchases, like a house, or any other purchase down the road. If you know you won't need the funds for awhile, why not get paid more to save?
Calculate how much your certificate could be worth >
Ending your certificate early

Credit unions use the savings held in your certificate to help fund your fellow members' loans. It's part of the cooperative nature of credit unions.
Learn more about the credit union difference >
Because the credit union counts on using your funds for a set time, you typically pay a penalty if you withdraw your money early.
Each financial institution's fee structure is different. But at Dupaco, there's a one-year loss of interest on the funds you take out early.
Usually, this helps encourage you to save your money instead of spending it!
Why cashing in early sometimes makes sense
Even so, breaking the terms of your certificate sometimes makes sense.
Today's market has led to higher-rate certificate specials. That means the CD investment or certificate you opened years ago might no longer be as lucrative.
Depending on the rate and terms of your certificate, you might be money ahead by paying an early withdrawal penalty and moving your savings into a higher-rate certificate. In these cases, over time, the higher rate more than makes up for that penalty.
Every situation is unique, though.
Meggan Heacock, senior vice president, finance at Dupaco, suggests asking yourself these questions:
|1| Did my certificate automatically renew?
Usually, when this happens, your certificate didn't automatically move into a special certificate. "If you didn't actively seek out the certificate specials, you might be in a lower certificate rate than what the market is demanding," Heacock said.
|2| What's my current rate?
If it's significantly lower than the latest special rates with a similar term, it's time to talk to a financial expert.
"The lower the rate you have on your current certificate, the more you could potentially come out ahead," Heacock said.
|3| What kind of penalty would I pay?
The lower the penalty, the greater opportunity you might have to move on.
Your next steps
Not sure whether breaking the terms of your CD investment makes sense?
A Dupaco expert can calculate and evaluate your options to help you make the right choice for you. Here's the information you'll need:
Most recent certificate statement
Initial certificate disclosures
From there, a Dupaco expert can review your certificate's open or renewal date, current balance, terms, interest rate, dividend payout frequency and penalty for early withdrawal.
You'll then know whether it makes sense to move your CD investment into a Dupaco certificate or leave it where it is.
"We want to do what's best for our members," Heacock said.

Other ways to save
If you think you'll need to access the money before your term is over, a certificate might not be the right savings strategy for you.
Plenty of other Dupaco savings tools can help you set aside money with easy access to it when you need it:

You-Name-It Savings Accounts: Easily create separate savings accounts for anything—expenses, projects, purchases … you name it! Open as many You-Name-It Savings accounts as you'd like within Shine Online and Mobile Banking.

Savings Goal: Savings Goal, also accessed within Shine, is designed to help you save for future purchases, projects, expenses and more. Simply enter your goal amount and the date you'd like to reach your goal. Savings Goal will calculate a customized plan to reach it.

ChangeUp Savings: Have your "loose change" from debited transactions automatically deposited into your savings account with this tool. The change adds up!

Money market account: With a money market account, you earn above-market rates. Higher balances offer higher dividends. And unlike a certificate, you don't have to commit to saving for a set period of time.