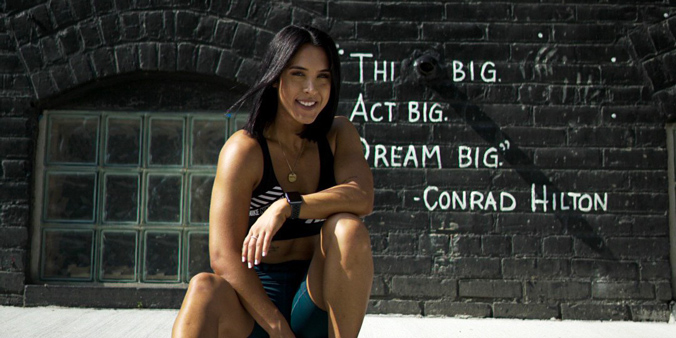 Dupaco member Sara Davis, of Lakewood, Ohio, visits the local art district in Cleveland, Ohio. (K. Hammonds photo)
Why her credit union is 500 miles away
LAKEWOOD, Ohio—For the past four years, longtime Dupaco member Sara Davis has lived more than 500 miles from the closest Dupaco branch.
Fellow Lakewood residents have asked why she stays with the credit union. Perhaps she should consider banking closer to home, they've suggested.
But to Davis, Dupaco is home.
"There's literally nothing I haven't been able to do from here," she said of her financial cooperative. "I don't have a reason to leave Dupaco."
How she connects 500 miles away
Davis keeps tabs on her money through Shine Online and Mobile Banking. Shine lets her know how much Thank Use cash she's earned.
When she needs to deposit cash, she goes to her closest CO-OP Shared Branch, which gives her fee-free access to her Dupaco accounts at participating branches nationwide.
And when Davis wants to talk to a Dupaco expert, she picks up her phone. She said she's always greeted by a friendly voice on the other end, regardless of why she's calling.
"Anytime I call, it's always really easy to get in touch with a real person, which is nice," she said.
Getting down to business
About a year ago, Davis started her own business as a personal trainer. And she turns to Dupaco for guidance along the way.
As her business grows, Davis has been able to chip away even more at some lingering credit card debt. When she recently increased her credit card payments, Dupaco staff took notice.
"They called because I had upped my payments. They said, 'Business must be picking up!'" Davis recalled. "Whose credit union calls them and remembers you started your own business six months earlier and thinks it must be doing well since you're making bigger payments?"
The phone conversation meant a lot to Davis, who hopes to soon connect with credit union staff again.
She'd like to eventually open a Dupaco business account from afar to help her move into her own training space. She wants to empower even more women in the personal training community that she's grown.
Davis' first step is building her credit. And she knows Dupaco will be there for that, too.
"I want to get my credit to a really good place," she said. "For me, that would mean financial freedom."