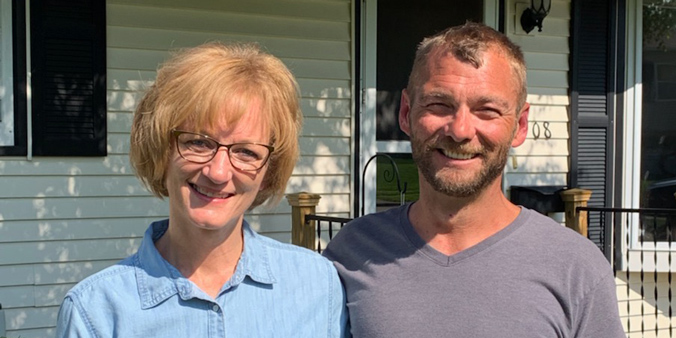 Dupaco helped Janie Houselog and her fiancé, Josh Post, prepare for homeownership. They bought their first house together in April. (T. Houselog/Dupaco photo)
Teacher: 'They make me feel like I'm worthy'
DUBUQUE, Iowa—For many years, Dubuque teacher Janie Houselog was a single parent, putting her children's goals ahead of her own. Their happiness, she said, meant more to her than her own.
With her children raised, married and in houses of their own, Janie was ready to explore buying her first home. She and her fiancé, Josh Post, wanted a place where they could more easily host their growing family, which now includes grandchildren.
But after asking Janie's bank to consolidate some of their debt to prepare for homeownership, they were quickly turned down—leaving them reluctant to ask for help again.
"They just said no. They couldn't do that for us. And they said we'd have to wait a few years to get a home," the teacher said. "I was gun shy to ask after that."
But Janie's son, Dupaco's TJ Houselog, knew it was simply a matter of going to the right financial institution.
"I started pestering my mom about getting in here to talk to someone about her finances," TJ said. "My mother lived her best life by giving everything that she could to her kids. Through Dupaco, I felt that it was time to return the favor."
'I had waited so long'
Janie and Josh eventually agreed to give Dupaco a try.
They began meeting with Dupaco's Spencer Smith and Tressa Pergande in Dubuque late last year.
Not only did Dupaco consolidate the couple's debt, but the credit union explained how to financially prepare for homeownership.
"Going into Dupaco, we were thinking about what we could do to get on the right track to buy a house a couple years down the road," Janie said. "And to our surprise, it was more like months."
Within a few short months of consolidating their debt, the couple's credit scores skyrocketed. And Dupaco said they were ready for their first home loan.
"It seemed almost unreal that the consolidation helped our credit scores go up so high," Janie said. "I've worked two jobs my entire life, and buying a home never seemed like a reality for me. I had waited so long, I was kind of in disbelief."
Teacher learns credit union difference
Janie and Josh bought their home April 1.
Their house is humble but homey, close to the English teacher's school and a perfect place to welcome their grandbabies for visits.
"It's an added bonus that we were able to buy my grandparents' home," Josh said. "It's super special for us—a place we now get to call home and make memories with our family."
Working with Dupaco "made all the difference in the world," Janie said. Doing so led them not only to homeownership but to their new financial home.
"I really learned there's a big difference between a bank and a credit union. At Dupaco, they stand behind people. They make me feel like I'm worthy, and they treat me like family," she said. "I wish I would have gone to Dupaco sooner, but everything happens at the right time."