The Credit Union Difference
Dupaco Community Credit Union continues to fulfill its not-for-profit mission to enrich the lives of our more than 114,000 members. This ideal is as true today as it was in 1948, when 10 Dubuque Packing Company employees founded the credit union on the philosophy of cooperation and mutual self-help. At a credit union like Dupaco, people are worth more than money.
How are banks and credit unions different?
Here's a visual that breaks down the main points of differentiation.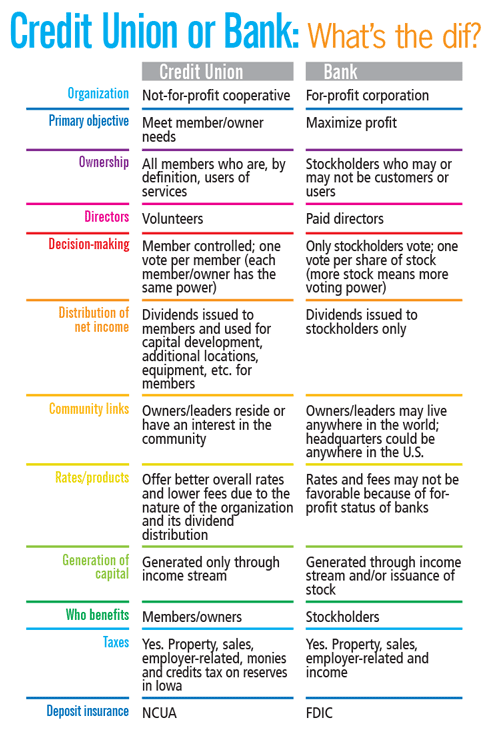 Are bigger credit unions, like Dupaco, different than smaller credit unions?
Not-for-profit credit unions of every size focus on helping working families get ahead.
Dupaco's structure and mission are the same now with more than 109,000 members as it was in 1948, when 10 employees of the Dubuque Packing Company formed the credit union to help each other improve each other's financial position. Seventy years later, it's the same mission, same structure—Dupaco is just making an even bigger positive impact.
What else does Dupaco do to help working families create financial sustainability?
Consumers Save with Competitive Choices
As a not-for-profit credit union, Dupaco's cooperative structure provides an opportunity for members to use and control their own money—on a democratic basis—in order to improve their social and economic condition. Our purpose remains unchanged from 1948, when 10 meat packers founded the credit union to encourage habits of thrift and provide a fair source of credit at reasonable interest rates.

See for yourself: Click here for a state-by-state comparison of average bank and credit union rates for both savings and loan products.
Our community depends on strong banks and credit unions. But as banks continue to reap record profits, competition and consumer choice ensures credit union members AND bank customers get a better deal. And that's good for everyone.
*Credit Union National Association data as of 9/30/16
Dupaco Money Makeovers
We perform annually more than 1,700 free Dupaco Money Makeovers to help members pay less and save more.
Credit History Lessons
Each year, we conduct more than 9,500 free Credit History Lessons to help members and non-members understand their credit report.
Bright Track Credit Score and Full Credit Report Access
Among membership benefits, Dupaco provides free credit monitoring and education through Shine Online and Mobile Banking.
Thank Use Participation Giveback
In 2017, members received more than $3.17 million as part of their participation in Dupaco's Thank Use campaign.
Alternative to Payday Lenders
More than one in four Dupaco loans are for less than $2,500—as a thrifty alternative to predatory payday loans.
Small Business Loans
For more than 36 years, Dupaco has been a source of capital for growing businesses in our communities. The credit union's median business loan amount is about $46,800.
Matched Savings
We offer individual development accounts with matched savings for low-income asset-building for homes, education, small business and work transportation.
Community Muscle
Every year, our employees volunteer more than 7,200 hours in support of community organizations.
U.S. Treasury CDFI Certification
Dupaco received U.S. Treasury certification as a Community Development Financial Institution (CDFI), which recognizes our service to low-income communities and people who lack access to affordable financial services.
Dupaco is a Thrifty Refuge from Predatory Payday Lenders
More than 1 out of 3 loans made by Dupaco are a small-dollar loan of $2,500 or less. In 2017, Dupaco made 9,123 loans that were $2,500 or less. These do not include credit card advances or overdraft protection.

Loans $2,500 and less:
Number of Loans Made: 9,123
Average Loan Balance: $1,092
Average Interest Rate: 12.2% APR
Loan Fees Charged: $0
Repayment Terms: Flexible

Of those 9,123 loans, these were $500 and less:
Number of Loans Made: 2,614
Average Loan Balance: $398
Average Interest Rate: 11.27% APR
Loan Fees Charged: $0
Repayment Terms: Flexible

Payday lenders may argue that the APR is misleading because loans are often paid back within two weeks. But, if the borrower is unable to repay the loan in full, the cost of the loan escalates. At this point the loan is "rolled over" into a new loan. If this continues, the original payday loan becomes expensive and starts a cycle of debt. By setting up loans with easier repayment terms, Dupaco can help individuals stop the borrowing cycle.