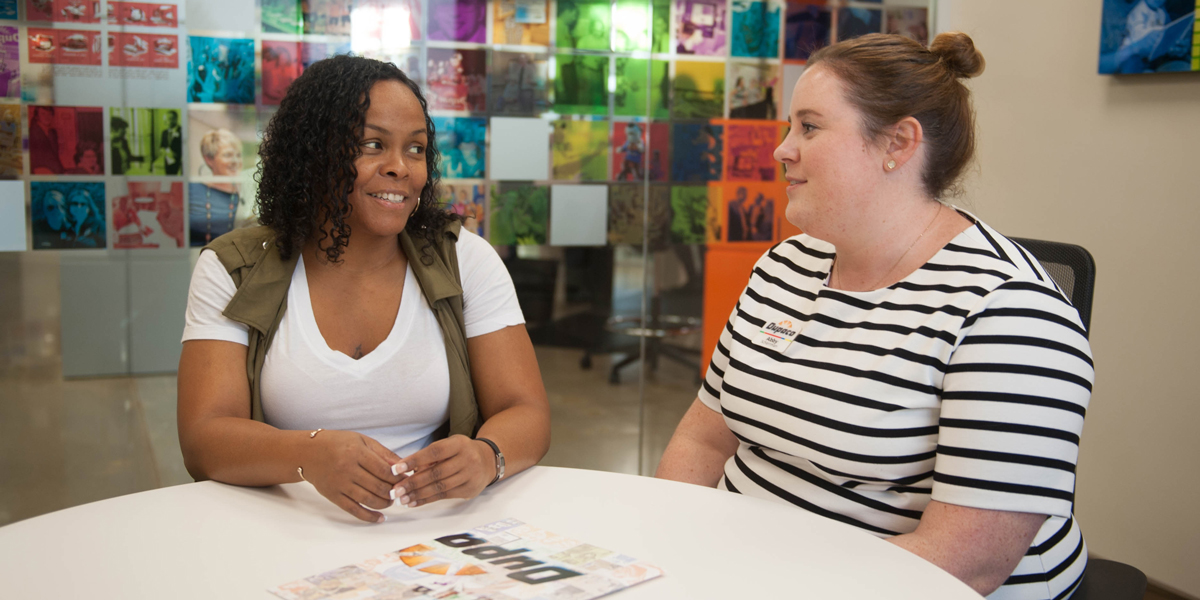 Member Chad Woodson (left) meets with Dupaco's Abby Scherrman at the Pennsylvania Avenue branch in Dubuque, Iowa. The credit union is committed to helping members like Woodson improve their financial positions every day. (M. Blondin/Dupaco photo)
Forbes: Dupaco among best credit unions and banks
When members come first, everyone wins. That's the case with Forbes' second annual ranking of the country's best credit unions and banks.
Forbes recently named Dupaco a Best-In-State credit union in its ranking of in-state financial institutions. The report aimed to gauge which financial institutions best serve their members or banking customers.
"This recognition simply reaffirms our staff consistently delivers on the Dupaco brand promise to improve each member's financial position and uplift the communities we serve," said Dupaco President and CEO Joe Hearn.
Ranking the best credit unions and banks
Forbes partnered with market research firm Statista to survey more than 25,000 U.S. consumers about their opinions on current and former financial relationships.
The survey asked respondents 20 questions about their financial dealings, according to Forbes. Banks and credit unions were rated on overall recommendations and satisfaction, and five subdimensions:
Trust
Terms and conditions
Branch services
Financial advice
Forbes recognized a mere 331 U.S. banks and credit unions, including four in Iowa, in its June 25 report. Only institutions receiving the highest ratings earned the title Best-In-State, according to Forbes. Dupaco received these honors in 2018 as well.
The final rankings excluded nationwide financial institutions with branches in at least 15 U.S. states.
Members typically more satisfied
Credit unions generally earned higher satisfaction ratings than banks.
On a scale of one to five, banking institutions averaged 4.2, with credit unions averaging 4.5, according to the report.
"Members-only credit unions typically have lower fees and offer better interest rates than traditional banks, and the nonprofit model where the members are the owners puts the customer first, resulting in higher levels of satisfaction," the Forbes report said.
Learn more about the credit union difference
How Dupaco is putting members first
Dupaco is a not-for-profit credit union owned by its members. That means you control your money and reap the benefits.
Your money stays here, helping your friends, neighbors and community.
By using your financial cooperative's services—loans, savings, insurance and more—the more all members benefit through enhanced services like free Bright Track credit monitoring and Money Makeovers, favorable rates and more. This boosts each member's financial well-being.
And everyone wins.