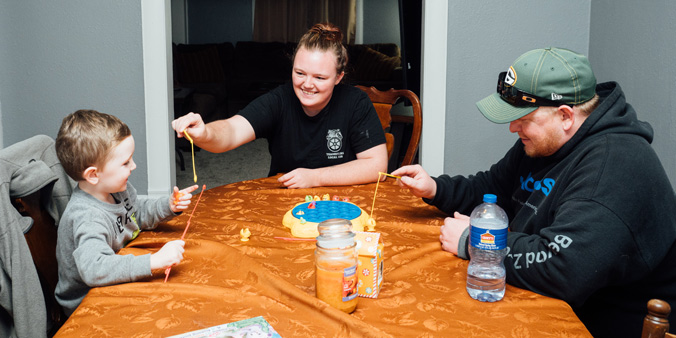 Dupaco members Heather Staton and Ryan Bubenyak play a game with their son, Declan, at their new home in Cedar Rapids, Iowa. (B. Kaplan photo)
How couple buys first house with help of partnership
CEDAR RAPIDS, Iowa—Tired of renting, Ryan Bubenyak and Heather Staton dreamed of buying their first house. They wanted a home they could call their own.
But homeownership was always out of reach.
"We had been renting for what seemed like forever," Bubenyak said. "We knew what we had to do, but we'd never been very good at it."
When the couple moved to Cedar Rapids and joined Dupaco about two years ago, they learned an encouraging lesson: homeownership was possible—and sooner than they imagined.
The couple bought their first house in September.
"We were never in a position to even come close to buying a house before," Bubenyak said. "To buy a house two years after moving to Cedar Rapids is unbelievable."
Here's how they got there.
Budget lessons
Bubenyak and Staton turned to their new credit union for guidance.
Dupaco's Erin Douglass, who is Bubenyak's sister, had them start by creating a budget to help them brush up on bill management.
Douglass helped the couple create multiple You-Name-It Savings accounts so they could automatically and systematically set aside money for their recurring expenses and saving goals. They created an account for rent and utilities, one for daycare expenses, another for student loans.
"I've never been a very good budgeter per say, and it has helped tremendously to be able to separate our bills into different accounts," Bubenyak said.
Learn how to create a zero-sum budget >
The couple took their budget to the next level by setting up automatic payments for their expenses.
"Before, we always had to worry about what's been paid and what hasn't. With You-Name-It Savings and automatic payments, you know you have the money there for the bills and your accounts will get paid," he said. "It's made it so much easier."
The credit union continued to help the couple in other ways too.
Bubenyak and Staton have a Dupaco auto loan, with Dupaco Insurance Services protecting their vehicle.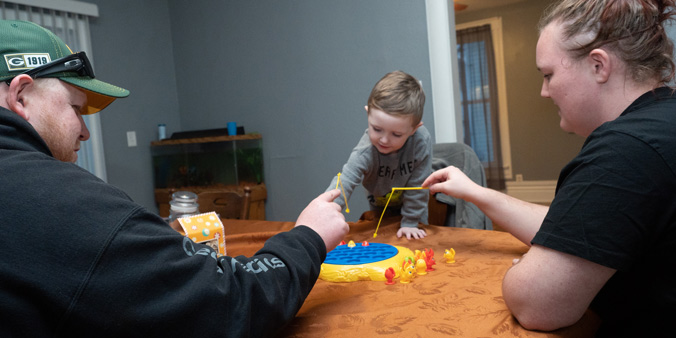 A needed savings boost
Once the couple got a handle on their budget, Douglass told them about a unique partnership opportunity that could help them save for their down payment.
Through the credit union's MoneyMatch program, the savings of a participant are matched by a grant from the Dupaco RW Hoefer Foundation. The program helps participants purchase a wealth-building asset, such as a home.
Explore our first-time homebuyer programs, grants and loans >
Once again, the couple saved automatically and systematically, with a predetermined amount coming out of every paycheck to fund their MoneyMatch account.
"We never had to worry about what money went where and if we had put enough in that account," Bubenyak said.
After two years of saving—and receiving matching funds from the Foundation—they were ready to buy their first house.
"Honestly, without MoneyMatch, we probably wouldn't have been able to buy a house yet," Bubenyak said. "It helped us have enough for a down payment. We were saving as much as we could, but it wasn't enough."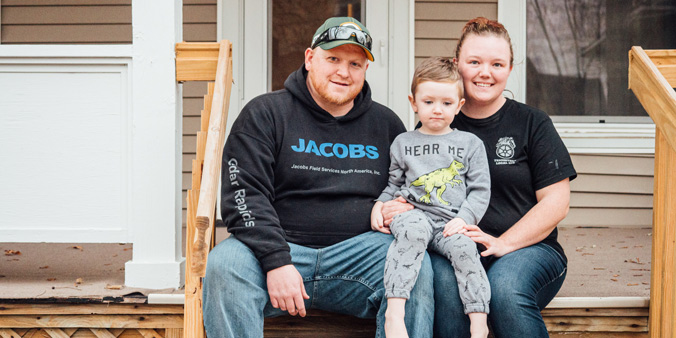 Living their dream
After reviewing a list of potential houses from their realtor, Bubenyak and Staton chose four to walk through. A few days later, they made an offer on a two-story house in Cedar Rapids.
"Proud big sister here watching him succeed," Douglass said.
Now instead of setting aside money in a MoneyMatch account, the couple saves for future home maintenance projects. Eventually, they'd like to update their bathroom and maybe finish their downstairs.
Meanwhile, they're protecting their biggest investment with the help of Dupaco Insurance Services.
"It feels nice," Bubenyak said of homeownership. "The credit union has done a ton for us that I never thought they'd be able to do, especially with the MoneyMatch. With any service we use, they help as much as they can."