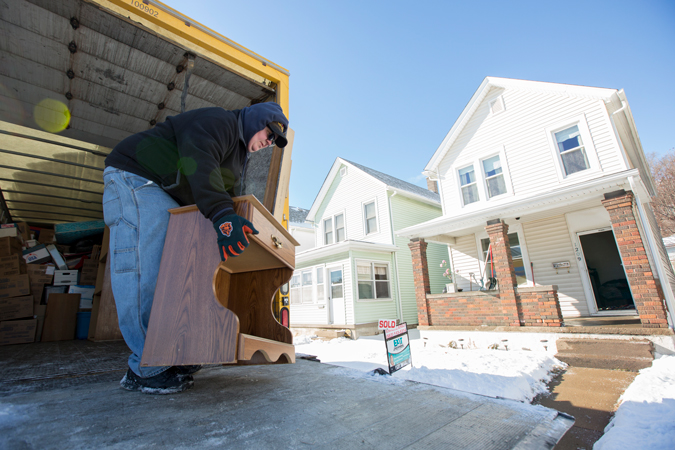 Member Scott Kehoe carries furniture from a moving truck into his new home in Dubuque. (M. Burley photo)
Power of partnerships leads to homeownership for couple
DUBUQUE, Iowa—Renee and Scott Kehoe have been together for nearly a dozen years, married for almost seven of them. They finish each other's sentences and are partners in life.
And now—thanks to the power of partnerships between their credit union and community-driven programs—the Dupaco members are homeowners together, too.
"It's the coolest thing I've ever purchased, and it's really nice to be able to share it with her," Scott said of their Dubuque house. "It's really a huge step for both of us. We're truly blessed."
The journey to homeownership
Their homeownership journey began in 2015, when they took the city of Dubuque's "Getting Ahead in a Just-Gettin'-By World" class.
Dupaco partners with the city initiative to provide participants with financial education and access to the credit union's MoneyMatch, a matched-savings program used to purchase a wealth-building asset such as a home.
Who can benefit from a Dupaco MoneyMatch? >
Renee took the "Getting Ahead" class first, intrigued by the program's focus on helping participants break free from the paycheck-to-paycheck cycle alongside others in their community.
"She would come home and tell me, 'You should have been there, honey,'" Scott said. "She literally talked me into doing it, too."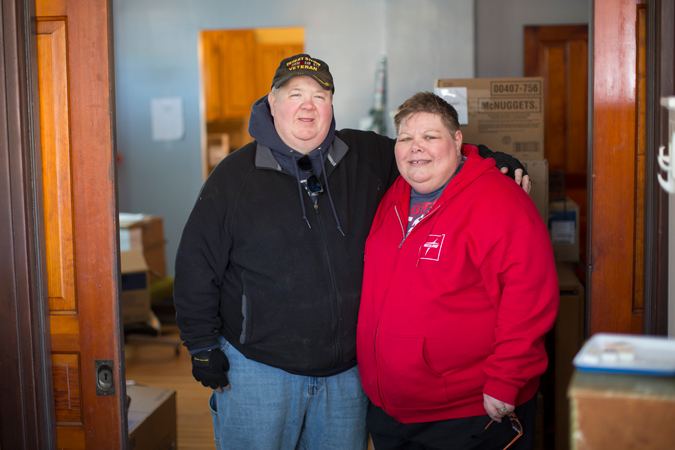 The Kehoes learned money skills, experienced fellow community members building each other up and met new friends—many of whom have become like family.
How the couple saved to reach their goal
Once they both graduated from the program, the Kehoes took the next step, turning to their credit union to begin saving for a house through a Dupaco MoneyMatch account. The savings of a participant are matched by a grant from the Dupaco R.W. Hoefer Foundation.
It was the first time the couple saved like this—automatically and systematically, with a pre-determined amount saved from every paycheck.
"I would look at our statements and be amazed," Renee said.
By early 2018, the couple had reached their savings goal and earned their matching funds. Before they began their house hunt, they received a free Dupaco Money Makeover to review their finances and boost their credit scores even more to qualify for a lower interest rate. Dupaco helped them consolidate credit card debt and set them on a path to paying off their balance.
Related: Need some financial coaching before you buy a home? Dupaco can help.
Their scores quickly climbed. And three weeks after getting pre-approved for their home loan, the Kehoes found their house, a three-bedroom home with a covered front porch—complete with a five-burner stove and ice machine, which sealed the deal, the couple jokes.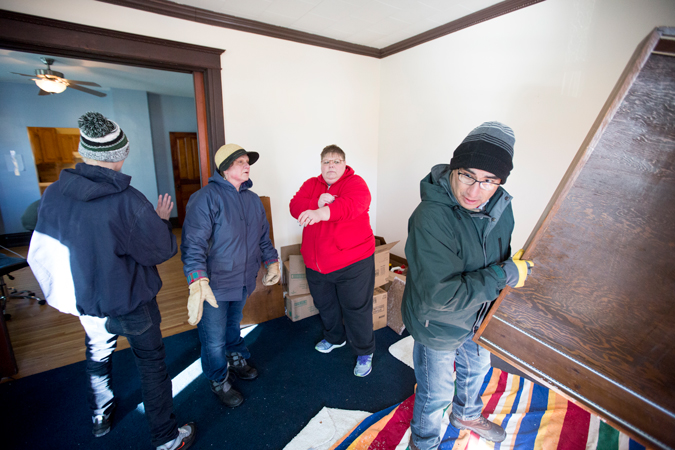 On move-in day, their friends from the "Getting Ahead" program were there to help and show their support.
Because of the Kehoes involvement with the city program, Dupaco's MoneyMatch and other community initiatives, they were able to put more than $10,000 toward their down payment.
"We were totally awestruck. It was a big sense of accomplishment for the both of us," Scott said.
From here, the couple plans to "keep thriving and climbing." They want to continue practicing systematic savings by beginning to build an emergency savings fund. And they want to encourage others to have their own success story.
"We both have come a long way," Renee said. "If you can do it, do it. Buy a car or a start a small business. Complete your education. If you have the means to do it, go for it."