Workplace Money Makeover helps couple confront debt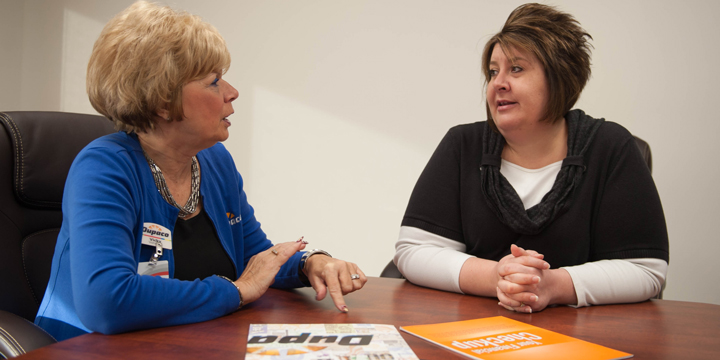 Dupaco Community Credit Union's Vicky Vondran visits with member Merri Sevey at her employer, Jo-Carroll Energy in Elizabeth, Ill. Through a free Dupaco Money Makeover, Merri and her husband, Trevor, consolidated their debt and saved hundreds in monthly credit card payments. (M. Blondin/Dupaco photo) 
Merri Sevey credits a Dupaco Community Credit Union presentation at her workplace last fall for planting the seed that freedom from credit card debt was possible for her family.
Dupaco's Vicky Vondran serves members at their workplace. She visited Merri's employer, Jo-Carroll Energy in Elizabeth, to discuss credit and its impact on overall financial health.
Merri and Trevor Sevey, of Elizabeth, were paying off multiple high-interest credit card balances, so she requested a free Dupaco Money Makeover.
Vondran reviewed the couple's credit reports and crafted a plan to consolidate their debt by rewriting two auto loans. This saved them hundreds in monthly credit card payments and significantly lowered their interest rates.
More importantly, there's an end date in sight for the credit card debt.
And the couple can put away even more money for the things that matter most to them.
"Our son, Tyler, graduates from high school in May. He's going into the Navy, so we're saving money to go visit him wherever he gets stationed," Merri said.
Debt consolidation also positively impacted Merri's credit. Her score climbed 70 points within a month—reaffirming that her longtime credit union always has her best interest in mind.
"Dupaco is so different from a bank," she said. "Dupaco has always bent over backwards to help. You're a member at Dupaco, and they're there to help you. And that means a ton to me."