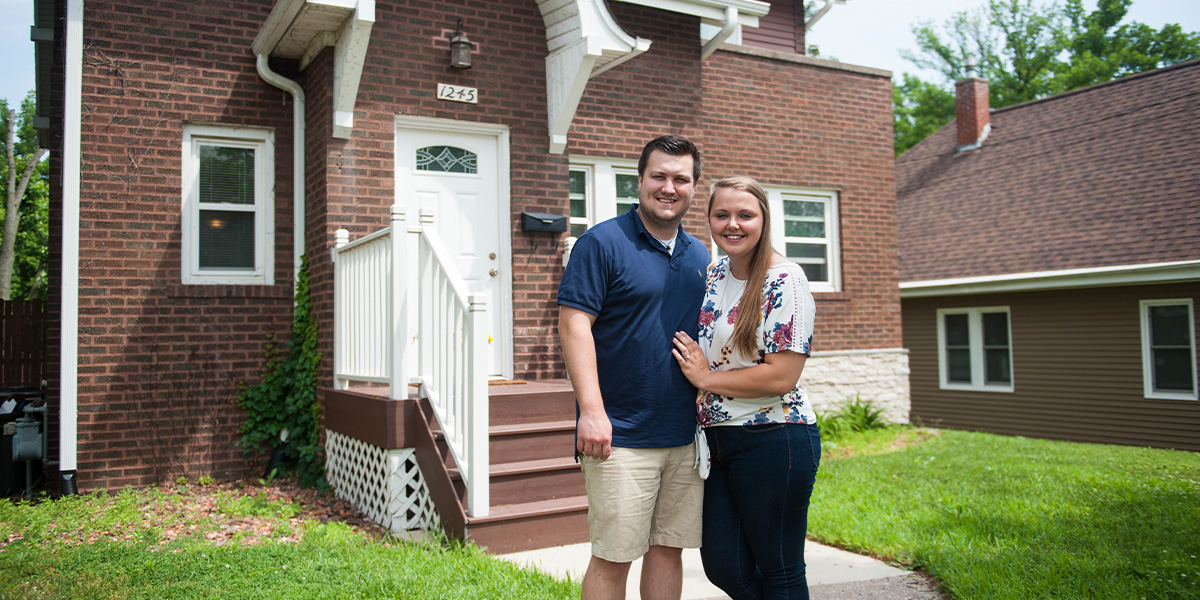 Engage in money talk before you tie the knot
Getting ready to tie the knot?
The more you and your partner can talk openly about your finances before the big day, the easier it will be to merge your lives and money, said Dupaco Community Credit Union's Tonya McGlaughlin.
Here are six financial steps to take before you say, "I do":
|1| Have an honest discussion about your assets and debts
Be honest with each other about the debts you carry, including student loans, credit cards and other loan payments.
"I've seen people hide credit card debt from each other," McGlaughlin said. "All of that can become difficult to hide once you are married."
These discussions can be tricky to navigate, so it can be helpful to involve a financial expert. A free Dupaco Credit History Lesson can help you review your debts, create a payoff plan that works for you both and even teach you how to drive up your credit scores.
Request your free Credit History Lesson >
|2| Determine your shared financial goals
What are your hopes and dreams together?
Do you want to buy a house? Do you dream of traveling? When do you want to retire?
"Make sure you have some shared goals, so you know what you're saving for and working toward together," McGlaughlin said.

|3| Understand each other's money mindsets
When you know your money personalities, it can help you have a better relationship with your money and each other. Talk about your money habits.
"You have to figure out what your role in the relationship will be financially," McGlaughlin said. "Having honest conversations about how you spend your money will help you work together as a couple."
|4| Decide how to set up your accounts after you tie the knot
Be open about your expectations when it comes to joint or separate financial accounts.
Some couples merge everything, while others keep their finances mostly separate.
It comes down to what works best for each couple.
"Just because you're getting married doesn't mean you need to start sharing a checking account," McGlaughlin said. "If you have a budget that works for you, who's to say that has to change when you get married?"
But life happens, and it's important to re-evaluate how your finances are allocated whenever you experience a life-changing event.
|5| Create a budget
Create a budget that works for your finances.
A free Dupaco Money Makeover can help you navigate this process—and even help you weigh the pros and cons of how to best merge your money.
During this process, you can even set up separate You-Name-It Savings accounts for all your budget items, from insurance to cell phone payments.
"A Money Makeover is a great thing to do together as a couple to help you decide who's going to be on what accounts," McGlaughlin said.
Request a free Dupaco Money Makeover >
|6| Be proactive with fraud prevention
As data breaches become all too common, it's important to know what's happening with your money.
Use Dupaco's free eNotifier Alerts to keep tabs on withdrawals, deposits, purchases and more.
"I really encourage couples to use the eNotifiers, because people aren't balancing checkbooks like they used to," McGlaughlin said.
You can also sign up for Family ID Restoration fraud-recovery coverage to help prevent and respond to identity theft and fraud.
And with Dupaco's free Bright Track credit monitoring, you can easily monitor your full credit report—and keep an eye on your credit scores.
"I'm seeing more spouses using Bright Track as a friendly competition with each other," McGlaughlin said.