Money Makeover
Need a Money Do-Over? Get a Money Makeover!

Every year, Dupaco helps hundreds of members pay less and save more. From having no credit to being a budget master, you may uncover extra savings during a Money Makeover, and make sure that your money is right on the...well, money.
What is a Money Makeover?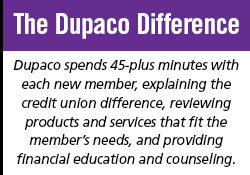 Whether your finances need total reconstruction or simple touch-ups, a Dupaco staff person will sit down with you—one-on-one—to review your entire financial picture. Broken down into five main steps, a Money Makeover covers credit scores, budgeting, asset and debt review, systematic savings and retirement planning.
The best part about a Money Makeover? It's FREE! Dupaco is a not-for-profit financial institution dedicated to improving our members' financial situations, and a Money Makeover is the perfect way to do just that.
Since no two financial situations are alike, no two Money Makeovers are the same. We've helped hundreds of member cut costs, build savings, establish short- and long-term goals and improve their overall financial well-being.
Is debt consolidation right for you?

A Money Makeover can provide opportunity to consolidate your debt to one payment and therefore, you can end up saving money where you didn't know you could. Check out these other tips to see if debt consolidation is the right choice for you.
If you're interested in consolidating your debt, let our experts help you get your finances on track! It's one-on-one, confidential, and there's no obligation. In fact, you don't even need to be a Dupaco member for us to review your finances.
To get started, simply fill out the form below, and a representative will be in touch with you through your preferred method of contact; give us a call at (563) 557-7600 / 800-373-7600, extension 206; or stop into your nearest branch.