Meet Coach Ben Strautmann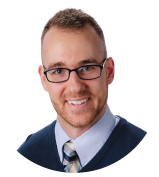 A Missouri native, Ben joined Dupaco two years ago as a Teller and is now a Member Service Representative at the Pennsylvania location in Dubuque. He feels empowered to make a difference at Dupaco with the array of tools that he uses to help members achieve their financial goals.
He also finds Money Makeovers to be his favorite type of appointment with members, stating that, "They're an opportunity to get everything out on the table and build from there. Going through the journey with them is exciting especially when you get to look back and see all the progress!"
Ben believes that understanding your credit score is vital because it's your lifelong and ongoing progress report—and the more positive it is—the better. And this couldn't be more important for the Great Credit Racers—and all young borrowers.
"When the time comes to do a loan when they are 21, they already have 3 solid years of credit building established. That is HUGE. The conversation then goes from needing a co-signer—or even denying the loan—to 'Hey, we can absolutely do this for you because we can see you have already been making steps to getting your credit score in a great place!'"
Finally, when it comes to establishing—or rebuilding—a credit score, Ben advises that individuals should seek financial counseling from a local financial institution—like Dupaco—so they can conveniently stop by to ask questions and work with experts along the way.