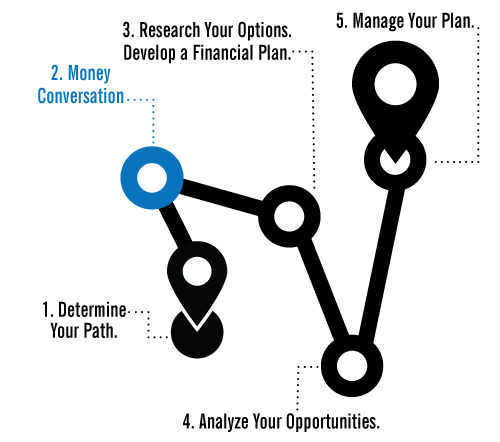 Money Conversation
The rising cost of a college education and the long-term financial consequences of taking on student loan debt demand that parents and students develop a financial plan for education.
Are your parents able to help pay for your education?
If YES, how much can they contribute?
How much are you responsible for paying?
How will you fund your portion? (Scholarships/grants, job, loans, etc.)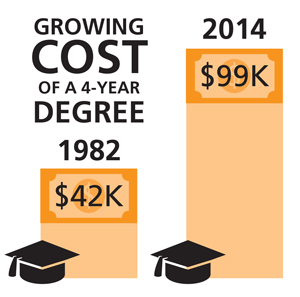 College costs have risen dramatically over the past decade or more. Unfortunately, financial aid hasn't kept up with tuition increases, making college more expensive for students and parents. [U.S. Department of Education, National Center for Education Statistics, 2015]
Understand the true costs of college
Too often, students and parents only focus on the tuition and room and board costs of college. However, there are many additional costs associated with going to college that impact a student's finances.
In addition to tuition and fees and room and board, keep in mind the following additional costs:
Books and supplies - textbooks, notebooks, and computer or technology fees.
Personal expenses - laundry, cell phone, eating out, entertainment, clothing.
Transportation - will you have a car (gas and parking), or pay for other modes of transportation?

Use this cost calculator to get an idea of what college costs may look like when you enroll.
NOTE: This is based on the "sticker price" of the school and doesn't include any scholarships, grants, financial assistance, or the like. However, using this type of calculator is beneficial in helping you see the full cost of a college education and not just one year of school.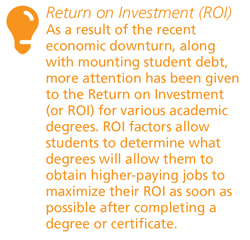 Other financial considerations
In addition to the costs and financial assistance of your school options, there are other criteria important when weighing your options.
Here are the basics: what kind of college will you attend, where is it located, what is the campus like, and what types of academic programs are offered.
Other considerations that can have an impact:
What is the annual average cost?
What is the graduation rate?
What is the average salary after attending?
What is the ROI on your college?
What is ROI?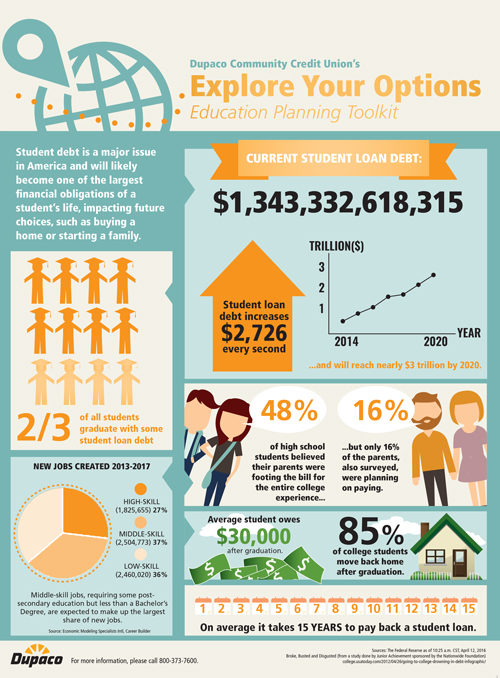 You need to look at your education as an investment. Like any investment, you want to know the return - what are you going to make after graduation or how long will it take for you to pay off your debt? Looking at your education in this manner will help you evaluate your options and choose the path that leads to less debt and a quicker return on your investment.
A standard rule of thumb is that your student loan debt should be equal or less than your expected starting salary out of college in order to fit within an acceptable percentage of your budget. But taking on as little debt as possible is always desirable.
Factor NO. 1: The net price you will pay.

Factor NO. 2: Your potential debt
Factor NO. 3: How long it takes to graduate
Factor NO. 4: Your earning potential

Read more at Reality check: The real cost of education, on the Dupaco Daily blog.
What is net price?
Net price is a college's sticker price for tuition and fees minus the grants and scholarships and education tax benefits you receive. The net price you pay for a particular college is specific to you because it's based on your personal circumstances and the college's financial aid policies. (bigfuture.collegeboard.org)
The federal government requires that most colleges have a net price calculator on their websites to better assist students and parents to understand the full financial implications.

Keep in mind this only provides an estimate of your financial responsibility. This is not a confirmed letter of financial aid or assistance.

Visit the PayScale College ROI Report for more information.