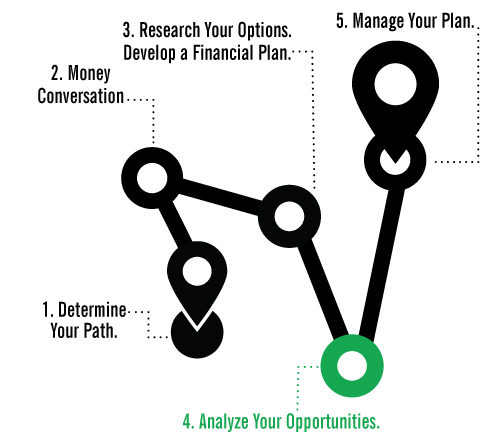 Analyze Your Opportunities
Now that you have done your research, it is time to compare your opportunities. A standard approach of Pros versus Cons is definitely a beneficial way to compare your options. But taking it a step further and using a SWOT Analysis approach may rive you better insight.
What is a SWOT Analysis?
A SWOT Analysis is a technique that is useful for understanding the strengths and weaknesses of your options, as well as the opportunities and threats (or barriers) to your decision.
S-STRENGTHS
What are the advantages of one option over the other?
What is unique or more beneficial about this option versus other options?
Does this option have a good graduation or retention rate?
W-WEAKNESSES
Does this option require you to take on more debt than other options?
Does this option have poor graduation or retention rates?
Are the class sizes too small or too big for you?
O-OPPORTUNITIES
Does this option provide better career opportunities after graduation?
Does this option allow you to take on less debt than other options?
Does this option have a strong focus on your desired major/career?
T-THREATS
Will money be a barrier in attending this option?
Is the location of this option a barrier?
Is the campus size or transportation option a barrier?
Using the cost and financial assistance information you have gathered, it can be helpful to put your top options together in a worksheet for comparison. This will allow you a side-by-side comparison of your options as you weigh your decision. Download a printable Comparison Worksheet located on page 10 of our Toolkit.