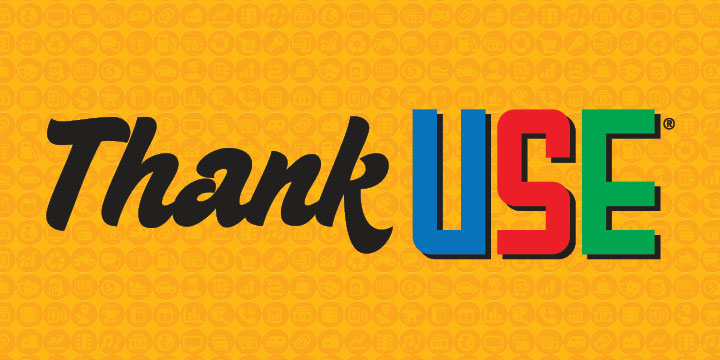 A BIG reason to be thankful: $16.8 million+ since 2016
There's always something to be thankful for. And this year, we're thankful for our community of Dupaco members.
At a financial cooperative like Dupaco, you're not just a member—you're an owner. And you share in your credit union's success.
This year, more than 63,000 members of the Dupaco community helped grow the credit union by saving, borrowing and planning for the future. Using their financial cooperative, members boosted their financial well-being and shared nearly $4.5 million in Thank Use patronage dividends.
The special payout occurred on a day that celebrates the cooperative difference: International Credit Union Day on Oct. 15.
What is Thank Use
Thank Use is a way to demonstrate the power of Dupaco's member-owned, cooperative structure.
"Dupaco is more than local. It's a financial cooperative, owned by people in our community," said Dupaco Chief Marketing Officer David Klavitter. "The more members use their credit union, the more members, the community and Dupaco benefit."
Thank Use rewarded members in relation to their active participation in the credit union. Recognized services included loans, savings, checking, insurance, investments, debit card, credit card and fraud prevention tools.
Each year, a new group goal is identified for members to achieve by working cooperatively together.
This year's group goal was all about starting a savings plan and sticking to it. More than 5,900 members set up an automatic transfer and routed funds to their Dupaco savings account for more than four consecutive months—helping achieve the group goal and earning participants an additional $30 dividend.
The payout also included 4,859 of Dupaco's youngest members. They learned the importance of making regular deposits to their credit union account and earned more than $121,000 through a special category called Boost.
"As a cooperative, our members work together for the betterment of themselves and the cooperative," Klavitter said. "Education is rooted in our mission, and when we achieve tangible results, we share that success with our member/owners."
The average dividend this year was $71. Members automatically received their Thank Use in their primary share savings account. They can view their dividends by logging into Dupaco's Shine Online or Mobile Banking.
This is the fifth consecutive year a participation dividend has been paid. Since 2016, Dupaco has paid directly to member/owners more than $16.8 million in Thank Use. Now that's a BIG reason to be thankful!
How much members could earn
Members earned Thank Use between Jan. 1 and Sept. 30. Here's how much members could earn in each category:
Savings Thank Use: up to $100
Borrow Thank Use: up to $60
Dupaco Insurance Services and/or Dupaco Financial Services Thank Use: up to $40
Dupaco card Thank Use: 5 cents per transaction
Fraud tools Thank Use: up to $20
Returning participant Thank Use: up to $20
Accumulate savings Thank Use: up to $15
Group savings Thank Use: $30
Boost Thank Use: $25
Learn more about how Thank Use works >
What's next
Dupaco continuously seeks to enhance value for its 133,000 member-owners. The cooperative achieves this in several ways, including:
Product, service and technology enhancements
Branch convenience
Staff expertise and service
Higher savings rates
Lower loan rates and fees
While Thank Use has ended, you're welcome to learn, earn and save at the cooperative any time. The more you use Dupaco, the more all members benefit through enhanced services, favorable rates and more.
Thank Use 2021 will be here soon. Watch for details in January!