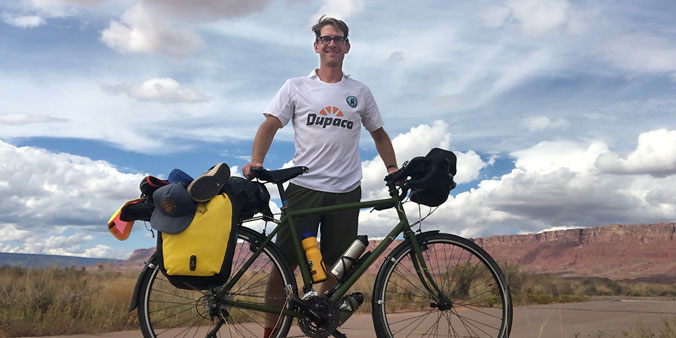 George Hofheimer, chief knowledge officer of the credit union think-tank Filene Research Institute, in Oct. 2018 represents Dupaco and Union Dubuque F.C. during a 425-mile solo bike ride from St. George, Utah to Phoenix, Arizona. Hofheimer—a collegiate soccer standout—wore the jersey sent to him by his friends at Dupaco. (Photo by George Hofheimer)
3 benefits to consider when you bike to work
It's Bike to Work Week!
The Sept. 21-27 event looks a bit different this year. But the benefits of biking remain the same.
With the unusual circumstances of 2020, The League of American Bicyclists moved the event from May to September—focusing less on biking to work and more on biking for your health and well-being.
And the league encourages you to Bike There, wherever "there" is for you, on Tuesday, Sept. 22.
"Any bike, anywhere, it all counts. We just want to bike together and inspire each other to do this simple act that means so much to our lives and our future," the league said.
Dupaco Community Credit Union is a sponsor of Dubuque's celebration.
You can still register for the local event—and a chance to win a bike commuter kit! Follow Dupaco on Facebook and join an online photo contest for an additional chance to win. You don't have to live in Dubuque to register for the event.
"We just want to encourage people to get out and bike more, save money and feel good," said Candace Eudaley-Loebach, owner of Lovely City Consulting and a coordinator of the Dubuque initiative.
If you're newer to biking, this is a perfect time to try it, she said. With many employees still working from home, traffic volume is lower during commute times.
"It should feel more comfortable to be on the roads right now, especially if you're not used to biking," she said.
3 benefits of biking to work
Biking to work—or wherever you need to go—offers plenty of benefits. Here are three of them:
Good for your money
The savings are small in the beginning. But when you bike instead of drive, you'll pay less for fuel. The more you bike, the more you'll save.
Eudaley-Loebach's family of four only owns one vehicle at a time. And the savings have been significant.
"We've always committed to one vehicle or less. We've saved on the cost of a car, fuel and insurance over the years," she said. "But it takes planning."
You don't need to commit to a huge life change like that during Bike to Work Week, though.
"Just get comfortable biking and keep pushing yourself," Eudaley-Loebach said. "The more committed you become, the more money you can save and the healthier you'll be."
Good for your health
When you bike instead of drive, you check two things off your list—your commute and your workout, all in one.
You might no longer need that gym membership. Biking to work burns as much fat as spending 40 minutes at the gym five days a week, according to PeopleForBikes.
Walking or biking to work is also good for your mental health.
"I always enjoyed walking or biking to work," Eudaley-Loebach said. "It's a nice way to clear your head at the beginning and end of the day. It's like having a reset button on your brain."
Good for the planet
Remember those fuel savings? When you bike to work, you help reduce air pollution from congestion and vehicle emissions.
"A long-term commitment to non-car travel is how you really impact the environment," Eudaley-Loebach said. "Bike to Work Week is how you dip your toes in the water."