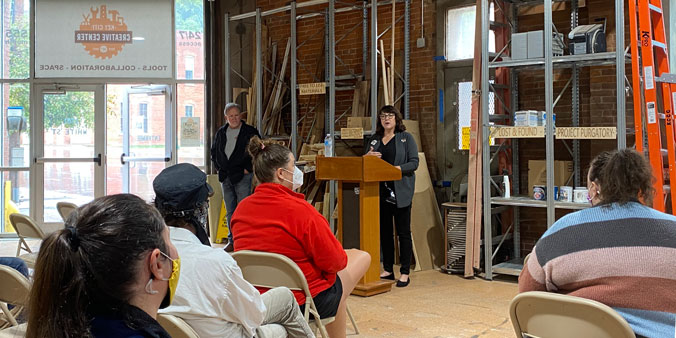 Dupaco's Michelle Becwar announces the BizHub during the Key City Creative Center Annual Membership Meeting on Sept. 12, 2020. (J. Hanniford/Dupaco photo)
Dupaco powers new BizHub at Dubuque makerspace
DUBUQUE, Iowa—Dupaco Community Credit Union and Key City Creative Center expanded their partnership by creating an office space for small business owners. The new space, BizHub Powered by Dupaco, is located within the KCCC facility at 1781 White St., Dubuque.
KCCC, a nonprofit makerspace, announced its newest space for members during its annual membership meeting Sept. 12. Members use the collaborative facility to learn, create and share their skills and ideas. They have access to a variety of tools, equipment and classes.
Many KCCC members develop their business and entrepreneurial dreams in the space.
About BizHub
The BizHub helps support their small business needs.
The office workspace includes computers with software programs, a printer and a conference table. Members can use the BizHub to:
Dupaco's partnership with KCCC supports the credit union's mission to empower people to improve their economic and social well-being, said Michelle Becwar, partnership development supervisor at Dupaco. Those who use KCCC's space have an opportunity to build their skills and businesses and, in turn, improve their financial positions.
Dupaco also is a longtime source of capital and financial services for businesses, she added.
"Through this partnership, Dupaco can support entrepreneurs and small businesses," Becwar said. "Maker entrepreneurs use these shared workspaces to meet their demand for affordable access to industrial and commercial tools, work and office space."
A history of partnership
Dupaco and KCCC also partner to provide Dupaco members with a 20% discount on memberships to KCCC. And the credit union's foundation, Dupaco R.W. Hoefer Foundation, supports the makerspace through a scholarship program that provides two free annual memberships.
The partnership is one more way Dupaco helps entrepreneurs and small businesses.
The financial cooperative provides one-on-one financial advice and a variety of products and services to support small business needs, including financial products, insurance and retirement services.