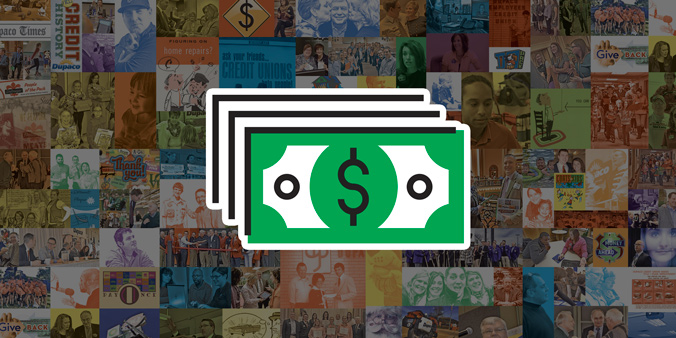 How to manage your personal finances during the pandemic
The novel coronavirus has ushered in a new normal. And it's likely impacted your personal finances.
You might be spending less on kids' activities and entertainment, but more on food and other supplies. Maybe your income has even taken a hit as more workplaces continue to shut down.
Your previous budget might no longer work during these uncertain times.
But know that help is here.
These financial strategies and resources can help you navigate your temporary new normal:
Hold off on major purchases
If you can, consider postponing major purchases.
It's unclear how long businesses will remain closed. By delaying your big-ticket purchases, you'll strengthen your personal finances by having more money available later if you need it.
Major purchases include:
Home
Vehicle
Deposit on an expensive trip
Resist retail therapy
It's true. Retail therapy can make you feel happier in the moment.
But it also leaves you with less money.
Given these unique times, it's even more critical to plan for worst-case scenarios with your personal finances, said Dupaco's Erin Engler, assistant vice president, community outreach and education manager.
"This is all unknown territory right now," she said. "Even if you aren't necessarily struggling financially, how can you live more frugally to prepare for what could be ahead?"
If you're stuck at home, it's tempting to start scrolling—and acting on—the deals populating your phone.
While a Journal of Consumer Psychology study found that retail therapy is an effective coping mechanism when you're sad or scared, it also revealed something else:
"… Hypothetical shopping was also effective at improving mood. That means you don't actually have to spend money to get the benefits of retail therapy. Formulate a strategy for window shopping. It could be putting items you'd like to have on your online wish list rather than in the cart," Forbes reported.
Practice pausing
Stuck at home? Before stocking up on food, toilet paper and other supplies, take inventory of the things you already have.
Be realistic about what you need.
"Utilize what you have first before you go out to buy more," Engler said. "Practice a pause to really consider what your needs are right now."
Not only does this help your personal finances, but it gives others in your community access to the things they need as well.
As you learn about the impact business closures are having on your community, it's natural to want to help.
"We're all in this together and trying to support each other in the best ways we can," Engler said. "But you have to look closely at your needs, too, to make sure any support you offer is sustainable within your budget."
Maybe it doesn't make financial sense to offer monetary support right now. But can you share your time and talents with those in need in other ways?
A quick search on social media will uncover several groups coordinating efforts to offer your spare pantry items, share your sewing talents to make masks, run errands for those who can't and much more.
Learn how to protect yourself from scams during the outbreak
Evaluate other expenses
With more time at home, take a closer look at your personal finances. Where and how do you spend your money each month?
If your income has decreased, you might find some simple places to cut expenses.
"If we're all cooped up in our homes, we need something to do. But where does it make sense to be spending money?" Engler said. "You want to make sure the things you are paying for bring you joy, but you have to be practical about what you can truly afford, too."
Here are some questions you can ask yourself to uncover ways to spend less:
Do you pay for cable or satellite services?
How many streaming services are you subscribed to? Consider cutting back to just one and rotating it based on the best deal you find.
No room in the budget for streaming right now? That's OK. Take advantage of all of the free content available during the pandemic.
Can you find a less expensive phone plan?
Are you eating carryout instead of making meals at home?
Can you cut food expenses even more by buying groceries in bulk and on sale?
Are you using paper plates instead of dishes?
How often do you use all of your monthly memberships?
How much do you spend on gas and electricity each month compared to others in your neighborhood?
"Whenever you look at your budget, it's give and take. If you're trying to save money or free up money for a bigger priority, you have to sacrifice somewhere else," Engler said. "When you sacrifice, look for free opportunities. There are a ton of uplifting resources out there right now."
Need help with your budget? Schedule a free Dupaco Money Makeover
Boost your savings
If your income remains the same, consider paying yourself more during this time.
The money you're no longer spending on kids' activities, haircuts, travel and more can be used to boost your savings.
Depending on your needs and goals, you can direct more money to an emergency savings account, retirement savings or something else.
Take advantage of financial relief
If you're out of work, the reality is that you might not be able to pay all of your bills right now. Focus first on your needs: Food and shelter.
If you must, delay repaying credit cards and other debts until you're in a more stable financial position.
For the bills you can't pay, communication is key. Reach out to your creditors and service providers. Ask whether you qualify for a reduced interest rate, different payment plan or other financial relief.
There are options:
Many providers and financial institutions, including Dupaco, deployed temporary measures to offer financial relief.
Federal student loan borrowers can be placed in an administrative forbearance, which allows you to temporarily stop making your monthly loan payment.
Several utility providers are not cutting off services for those who have not paid their bills.
The U.S. Department of Housing and Urban Development announced a nationwide eviction and foreclosure moratorium, including foreclosures already in progress.
The Internal Revenue Service extended the federal income tax filing deadline to July 15, 2020. You can also defer federal income tax payments until that date without penalties and interest.
Learn how Dupaco is helping its members
Pull from savings first
If the money coming in isn't enough to cover the money that must go out, look to your emergency savings first.
That's what it's there for.
Pull from the money you've set aside in liquid savings accounts. This way, you aren't penalized for withdrawing funds from other important accounts, such as retirement savings accounts, Engler said.
Lean on your credit union
If your savings isn't enough, you might need to borrow money.
Borrowing isn't one-size-fits-all, though. Talk to your credit union to learn what works best for you.
"At Dupaco, we're here to help you," Engler said. "We have options, so if you feel like you're struggling, or you're worried that you might, call us so we can talk about how we can help."