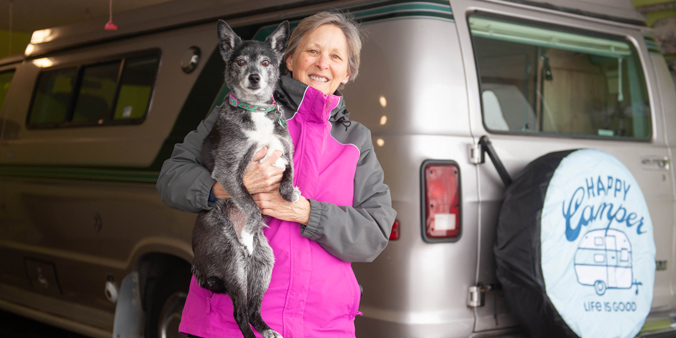 Dupaco member Sue Olsen, of Dubuque, Iowa, said Dupaco's fraud services team listened to her concerns about buying a campervan she had agreed to purchase sight unseen—and offered her a way out of the sale. Ultimately, Olsen bought the vehicle, but is grateful for a credit union that always has her back. Also pictured: Olsen's dog, BB. (M. Blondin/Dupaco photo)
The bright spot in one member's regretful purchase
DUBUQUE, Iowa—Ready for a new adventure, Sue Olsen set out to buy her first campervan.
The Dupaco member's excitement was short-lived. But there was a silver lining in her regretful purchase.
A regretful adventure
Olsen, of Dubuque, found a campervan online and flew to Ft. Worth, Texas, to pick it up.
"When I got there, the van was in rougher shape than I thought it would be, and the voice in my head was screaming at me to go back into the airport and get another one-way ticket home," she said.
Olsen said she didn't listen to her inner voice.
Instead, she called Dupaco from Texas and requested a wire transfer to complete the purchase. The sellers signed over the title and left Olsen with her new campervan.
But as she drove down the road, full of regret, her phone rang.
Her silver lining
The wire transfer stood out to Dupaco's Tara Ernst, fraud services representative. Ernst called Olsen to learn more about the transaction.
"I wanted to make sure she wasn't getting scammed," Ernst said. "We spoke about the risks of sending the funds, and I told her we didn't have to complete the wire if she didn't feel comfortable doing so."
Even though Olsen decided to complete the transfer, the phone call meant a lot to her.
"She heard my cries loud and clear and was offering me a way out," Olsen said. "She was like one of my friends back home, reaching out to make sure I was OK. And I've never even met her."
Olsen joined the financial cooperative a few years ago. Working in nonprofits throughout her life, mission-based organizations have always been important to her.
Olsen said joining was a smooth and informative experience. And she has appreciated Dupaco's Thank Use program, which thanks her for participating in her credit union.
Her recent phone call with her credit union further solidified her decision to join.
"Who else has a financial institution where people would do that? They've proven to be looking out for my best interest. There are so many wonderful people at Dupaco that I have to be there," Olsen said. "I'm a happy camper."