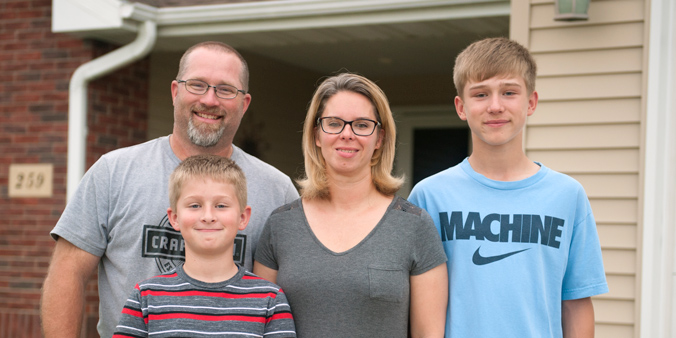 Dupaco members Jason and Cara Benn, with sons Griffin (right) and Landin, settle into their new home in Peosta, Iowa. (M. Blondin/Dupaco photo)
Family turns to Dupaco from tri-state area and beyond
PEOSTA, Iowa—When the Benn family moved away from the tri-state area a couple of years ago, they weren't sure how long they'd be in Arizona.
But longtime Dupaco members Cara and Jason Benn knew their financial home could remain the same wherever they went.
"The credit union is friendly, communicates with you and is easygoing," Cara said. "When we moved to Arizona, we left our banking accounts with Dupaco, because we knew there was shared branching and online banking."
The CO-OP Shared Branch network gives Dupaco members fee-free access to their money at more than 5,600 participating branches nationwide—including locations in Arizona.
Find your closest shared branch
Helping near and far
After living in the Grand Canyon State for several months, the family decided to buy a home with the help of their credit union. They were put in touch with Dupaco's Tressa Pergande, who guided them through the homebuying journey from afar.
"The whole experience was great all around," Cara said.
Earlier this year, though, life brought Cara, Jason and their two sons back to the tri-state area. Cara reached out to Pergande to share the news. And they began working together again so the family could buy a home—back home—in Iowa.
"Tressa knew what I was looking for and what I needed. And she was always quick to answer every question I had along the way," Cara said.
The Benns purchased their house in Peosta this summer.
"I had only spoken with Tressa on the phone before then," Cara said. "It was very nice to get to meet her in person."
Since their move, the family has another way to stay connected with their credit union as well.
Dupaco regularly visits Cara's workplace, Kloeckner Metals in Dubuque, to bring the credit union experience to members where they are. Cara said she appreciates Dupaco's workplace visits, because it allows her to ask quick money- and account-related questions during her workday.
"I know Dupaco will be there for us whenever we need them," she said.