Dupaco member Anna Grimm and her son, Cooper, visit with Dupaco's Jake Bemis on May 28 at the credit union's San Marnan Learning Lab in Waterloo, Iowa. (B. Pollock photo)
First home 'means entire world' to widowed mother
WATERLOO, Iowa—Anna and Dakodda Grimm dreamed of eventually buying the house they rented next door to her childhood home in Washburn. But as the couple built their credit to buy their first home, the unexpected happened.
Dakodda, who had dealt with health complications in the past, went into cardiac arrest.
He died in September 2018, leaving his wife and their toddler, Cooper, behind.
"My husband was a gentle giant. He was a great cook, and he would have done anything for anybody," Anna said. "I've gotten a lot stronger. I've had to for my son."
Making good on their dream
After Dakodda died, Anna wanted to see their homeownership dream through.
She turned to Dupaco's San Marnan Learning Lab in Waterloo for homeownership guidance. The couple planned to join the credit union.
"Before my husband passed away, we were planning on getting an account there and never got around to it," Anna said. "We had heard good things about the credit union."
She met with Dupaco's Jake Bemis, who guided her through the process of buying her first home.
"If I had questions, Jake was able to answer them and explain things so I understood it," she said. "He made the experience smooth, especially given the situation, and he couldn't have been more helpful."
On March 15, Anna purchased her first home—officially fulfilling a lifelong dream to live next door to her parents.
The signing was memorable.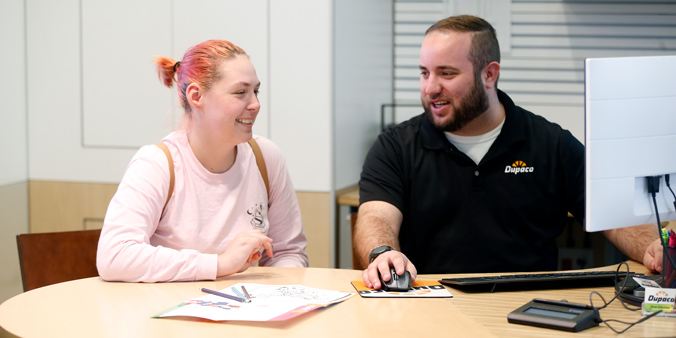 "The day I went in to sign the paperwork, my son and mother-in-law were with me. Dupaco gave my son a cute beach ball and had crayons set up for him in the conference room," Anna said. "It was super sweet and showed great hospitality."
Looking for a home of your own? Let's get started
Life in her first home
Thanks to the purchase, Anna's home loan payments are half the amount she paid in rent each month. The savings created room in her budget to save for other goals, like college for her 3-year-old son.
"Some days are really hard. Being a single mom is the worst part about this. Not having my husband here to raise our kid together is a weird thing I'm still trying to process," Anna said. "As cliché as it sounds, the days do get easier."
Living next door to her parents—in a home that's officially hers—has been a bright spot in the otherwise painful ordeal, she said.
"I can't thank Dupaco enough for being so great through this whole process with me," Anna said. "I don't plan on going anywhere else to bank anymore."
Anna's house is a near replica of her childhood home. It has a front porch where she can spend time with family and a fenced-in backyard for her son and dog to play in.
The young mother has many happy memories living in her neighborhood. And she hopes to build on those memories with her son.
"It's a cute little house in a nice little town that will be perfect for us. It was perfect for me growing up, so I know it will be perfect for my son," Anna said. "Being able to call it mine officially now means the entire world to me."