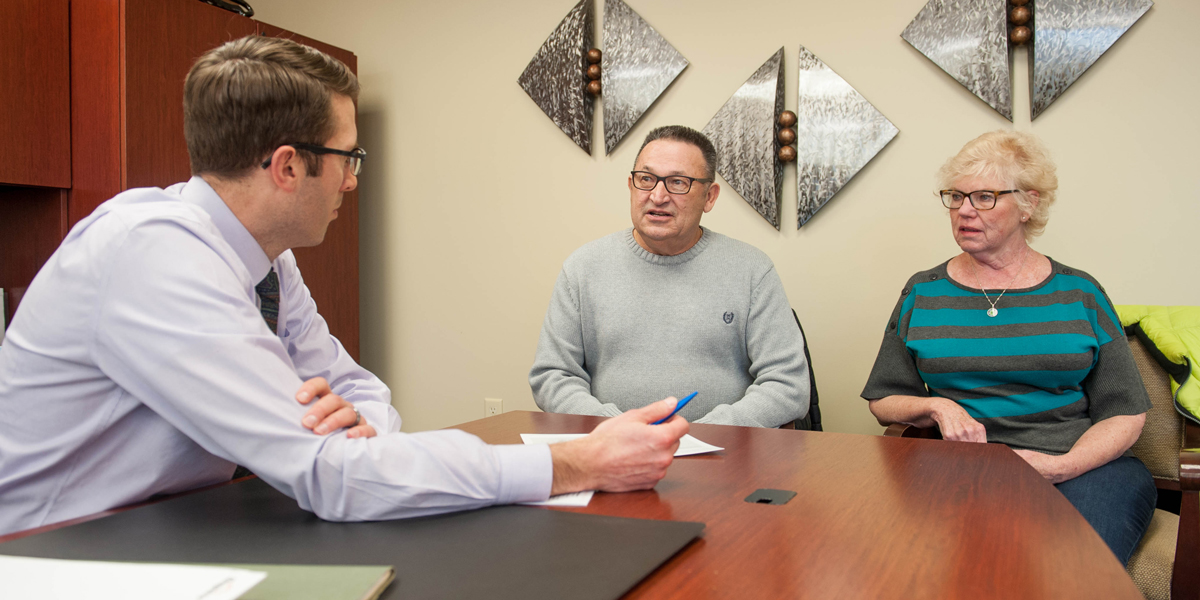 Dupaco members Wayne and Mary Konrardy meet with Michael Poppen from Dupaco Financial Services to talk about their investments at Dupaco's Pennsylvania Ave. branch in Dubuque, Iowa. (M. Blondin/Dupaco photo)
Why you can benefit from a chorus of retirement income options
By Michael Poppen | Financial advisor
There is no greater joy in life than being able to express one's self—basking in those moments of authenticity.
I believe that's why music is so powerful and important. It speaks to each of us in a way that can prompt the most primal responses of emotion.
Right now, we're in the season of Yacht Rock radio. For those unfamiliar, Yacht Rock is a Sirius XM channel playing a smooth collection of classic rock hits. Bands like Steely Dan, Hall & Oates and the Doobie Brothers soothe us with voices as feathery as their hair, and harmonies tighter than the silk-polyester blend of the shirts they wore.
Since the advent of satellite and streaming radio, it's easier than ever to jump from one genre of music to another with one push of a button.
I find Sinatra best while sipping on that Friday night Manhattan. And alternative/grunge is mandatory while painting the house or gearing up to replace the leaking toilet's wax ring.
We all have our favorites, but it's obvious how our music tends to reflect our mood or personality, and vice versa. The same can be said of investment and retirement or income planning. You can employ several scenarios to achieve a stated objective.
Think about variety for retirement income
Most financial plans use solutions varied or influenced by our mood or understanding.
In some cases, relying too heavily on emotions or a favorite investment tool hinders or restricts plans. Objectives are certainly personal. But in order to achieve them, we sometimes have to step away from where we feel the most secure.
Much like a playlist, you can diversify your investments into the traditional age-based equity/bond split. However, to take that one step further, we might look to use other investment options available beyond stocks and bonds.
To use another analogy, a song played on a CD player, SONOS system and a 1950s record player console channel that favorite song or tone differently. However, each player has its specific purpose and identity.
One isn't necessarily better than the other—just different.
Retirement income opportunities to consider
When preparing for retirement, it's important to look at each option as a potential opportunity.
If the objective is to provide income, based on your needs, let's look at what several of these potential retirement income opportunities offer. All of them can be held as IRA, Roth IRA and non-retirement vehicles.
So, for your listening pleasure, here are a few ideas:
CDs: Certificates of deposit are commonly used as an anchor and foundation for short- to mid-term safety of principal with a higher yield than typical savings accounts.
Fixed annuities: Guaranteed interest and principal investments issued by insurance companies usually carry a higher yield than traditional CDs. For non-retirement accounts, only the interest is taxable upon distribution.
Single premium income annuities (SPIA): These provide a guarantee of specified income for your life or a certain period of time. You can use a lump-sum of premium to provide a guaranteed amount of income for a specified period of time. Almost like a self-funded pension.
Stocks, bonds, mutual funds portfolio: As a rule of thumb, a properly diversified portfolio historically provides the potential ability to draw around 4% of the principal without depleting the account—typically replenishing distributions through subsequent year-over-year growth and dividends. This is, of course, no guarantee of future results.
Variable annuities with income rider: Adding a rider to an annuity might provide a guaranteed income draw based on a stepped-up increase or market value for the life of the annuitant. But watch for potential costs/fees associated with such an instrument.
Your retirement objective is unique
There is no doubt one might sound better than the other. But, again, when trying to generate a desired income or temper investment risk, it might make sense to sing a different tune.
In some cases, the best potential for success might be a matter of blending different approaches (different buckets to draw from, grow and replenish) to achieve the desired objective.
Every plan or retirement objective is unique.
In fact, it's a lot like jazz—a poignant note or blistering synergy of different instruments to achieve a distinctive sound. The collaboration between the client, adviser and the instruments used always should be open to movement and improvisation.
Just be sure to at least listen to the music.
Your Dupaco Credit Union provides referrals to financial professionals of LPL Financial LLC ("LPL") pursuant to an agreement that allows LPL to pay Dupaco Credit Union for these referrals. This creates an incentive for Dupaco Credit Union to make these referrals, resulting in a conflict of interest. Dupaco Credit Union is not a current client of LPL for brokerage or advisory services. Please read the LPL Financial Relationship Disclosure for more detailed information.
Dupaco Financial Services is a division of Dupaco Community Credit Union — the financial home you own — so you can rest assured that you're working with an organization that will act with your personal interest in mind. Dupaco Financial Services works with a national, full-service securities brokerage firm, LPL Financial, to make available top-of-the-line investment and insurance information and opportunities.
Securities and advisory services are offered through LPL Financial (LPL), a registered investment advisor and broker-dealer (member FINRA/SIPC). Insurance products are offered through LPL Financial or its licensed affiliates. Dupaco Community Credit Union and Dupaco Financial Services are not registered as a broker-dealer or investment advisor. Registered representatives of LPL offer products and services using Dupaco Financial Services, and may also be employees of Dupaco Community Credit Union. These products and services are being offered through LPL or its affiliates, which are separate entities from, and not affiliates of, Dupaco Community Credit Union or Dupaco Financial Services. Securities and insurance offered through LPL or its affiliates are:

The LPL Financial Registered Representatives associated with this site may only discuss and/or transact securities business with residents of the following states: Iowa, Wisconsin and Illinois.