Case of identity theft leads to new financial beginning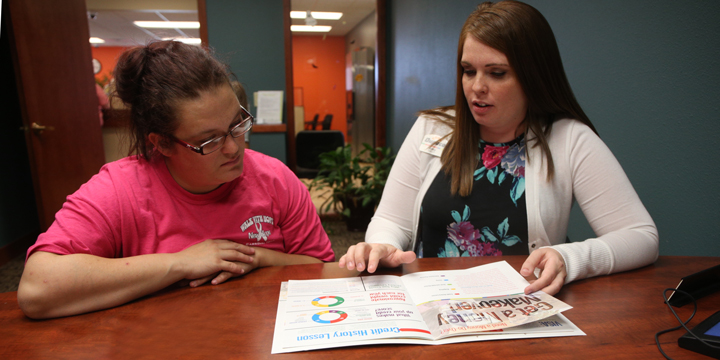 Dupaco's Amy Meyer (right) visits with member Felicia Ziegmann on Sept. 24 at Dupaco's branch in Carroll, Iowa. After Ziegmann became a victim of identity theft, Dupaco quickly stopped the fraudulent check and provided unexpected financial guidance. (A. Mehl photo)Carroll, Iowa—What began as a stressful case of identity theft ended with swift action by her credit union—and unexpected guidance to work toward a brighter financial future.
Earlier this year, Dupaco Community Credit Union member Felicia Ziegmann, of Carroll, thought she applied for an online loan with a legitimate company. But the information she provided online was stolen and used to create a counterfeit check to steal money from her Dupaco checking account.
Learn how to spot common scams >
Dupaco quickly flagged the check as fraudulent. But the financial cooperative didn't stop there.
Dupaco's Amy Meyer offered to help Ziegmann review her financial picture, looking at her budget, loans and insurance.
"Amy said, 'I can help you with all of this,'" Ziegmann said. "I told her, 'Anything you can do to help would be great.'"
Meyer helped Ziegmann consolidate a couple of loans and credit card debt, which reduced her monthly payments by $225. Next, Meyer set up a separate rent account for Ziegmann so she could automatically and systematically set aside money with every paycheck to go toward her rent payments.
A free Money Makeover can help determine if debt consolidation is right for you >
Dupaco Money Makeover looks at total financial picture
Ziegmann said it was the first time she had ever reviewed her entire budget like this. She found the process to be easier than she had imagined.
"It has helped me see how much money I have left over to spend each month on groceries and gas," Ziegmann said. "It's a lot less stressful than living paycheck to paycheck, and it's a lot more freeing."
Meyer also put Ziegmann in touch with Dupaco Insurance Services. By moving her auto insurance to Dupaco, Ziegmann was able to reduce her insurance premiums. The savings even included something Ziegmann didn't have before: Renter's insurance.
Get your free insurance quote >
"I was shocked," she said. "The help from Amy and Dupaco has been life-changing. I know I'll be sticking with Dupaco. Everybody is so friendly and always willing to help you as much as they can."