Dupaco member Scott Kehoe carries furniture from a moving truck into his new home in Dubuque. Because of Scott and his wife Renee's involvement with the city's "Getting Ahead" program, Dupaco's MoneyMatch and other community initiatives, they were able to put more than $10,000 toward the down payment on their Dubuque, Iowa, home. (M. Burley photo)
On the move: Your guide to moving
Nearly six years ago, Katie Fisher and her toddler were moving cross-country.
Fisher was returning home, within two blocks of her childhood house in Cedar Rapids, Iowa. But she was moving—and it's a daunting endeavor.
Fisher said her planning and detailed checklists made the experience a little less overwhelming.
"After I drove across the country with my 2-year-old and three cats in the trunk and a goldfish in a cup holder, we were able to walk right into our new apartment," Fisher said. "Everything was ready."
Fisher, a mortgage lending consultant at Dupaco Community Credit Union, said careful planning is crucial when you're on the move.
Use her guide if you face an upcoming move:
Go paperless before moving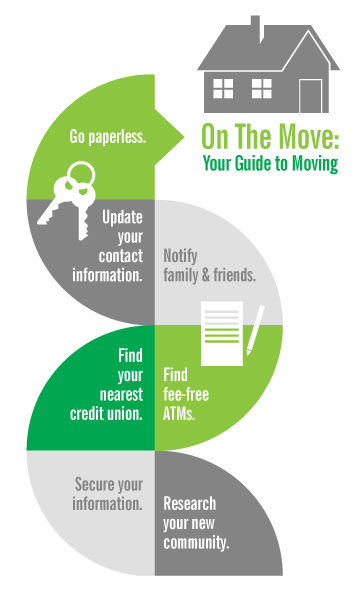 "As much as you're comfortable with the idea, go paperless with your accounts," Fisher said. "In the event you forget to notify someone of your new address, your accounts will be safe. You don't want your statements going to someone else."
Many businesses can set up automatic recurring payments direct from your checking account or with your debit card. Another option: Use Bill Pay to schedule payments to businesses, utilities or individuals.
You can go paperless with your credit union too. Dupaco offers eNotifier Alerts and eStatments within Shine Online Banking.
Update your contact information
When you move, don't forget to notify others of your new address and phone number.
Start with the U.S. Postal Service, and request your mail to be forwarded to your new address. Then work your way down the list:
Electric, gas and water companies: Call both your current and new utility companies a couple of weeks before moving to ensure your services are stopped and started on time.
Phone, internet and TV providers
Credit union: This is especially important when activating your Dupaco debit or Visa credit cards. You must call from the number listed on your account. Stop by any Dupaco branch or call 800-373-7600 to update your contact information.
Credit card companies
Investment firms
Department of Transportation: Driver's license and vehicle registration
Employer
Children's schools
Health care providers: Doctors, dentists, optometrists
Insurance companies: Home, auto, health, life, disability
Subscription-based accounts: Streaming services, magazines
Other memberships/clubs
Family and friends
Notify as many as you can as soon as you can, Fisher said.
"If you wait for the next bill, it might not make it to you," she said. "I don't take any chances with my personal information floating out there."
To help you remember which businesses you need to notify, reference the account you use to pay your bills (either your checking account or credit card statements). More merchants are making it easier to change your address online, which can save time, Fisher said.
Find your nearest credit union branch
Before you move, locate your closest credit union branch, whether that's another Dupaco location or a shared branch.
The CO-OP Shared Branch network allows you to stay connected to Dupaco no matter where you go. It offers you fee-free, face-to-face access and service at more than 5,600 credit union branches.
Find your closest branch, ATM or shared branch >
Find fee-free ATMs
You also can use Dupaco's mobile app to locate your nearest Dupaco, Privileged Status, and CO-OP ATM. Thanks to Dupaco's partnership with the SHAZAM and CO-OP networks, you can use your Dupaco MoneyCard in ATMs of other participating Privileged Status and CO-OP financial institutions without paying surcharge fees.
Secure your information
Before everything is packed, make sure your private information (like Social Security cards and other account identifiers) are secure and accessible to you—and only you.
"You want to know exactly where that important stuff is," Fisher said.
Research your new community
Before moving to a new city, do your homework on the community.
Go online to learn more about the city's offerings. Ask friends or family in the area for suggestions on everything from favorite grocery stores to schools to TV providers. Glean insight from your employer. And don't hesitate to talk to your credit union, Fisher said.
"We are professionals. And, yes, we do your finances. But we're also people. We're parents," Fisher said. "I like to think that my members think of me as a friend too."