Dupaco Connect:
Your direct link to resources, guidance and services.
Dupaco Connect locations are "remote branches" where you can do transactions, open new accounts by appointment, ask questions, and more. And because finding one-on-one, local financial help isn't always easy (or convenient), our Live Video Teller can connect you directly to our staff. They're standing by and always happy to help!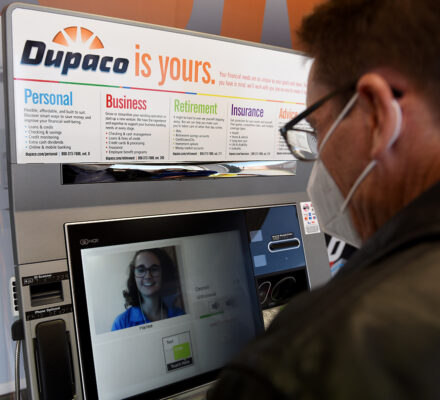 Featuring a Live Video Teller & 24-hour ATM
For all your everyday banking needs, including:
Schedule an appointment with us!
Looking to understand and improve your credit score? Apply for a loan? Discover ways to pay less and save more? Whatever your financial goals are, we'll meet with you at your nearest Dupaco Connect location to discuss all this and more. Just give us a little information, and we'll be in touch!
Dupaco Connect is offered in partnership with The Innovation Lab, a regional network of coworking spaces that foster innovation and entrepreneurship in Eastern Iowa.