Political Action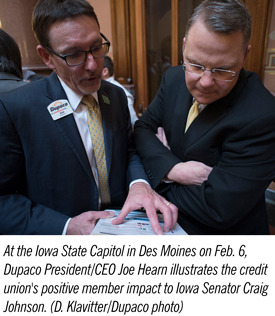 Your Money for Good.
Credit unions like Dupaco are not-for-profit financial cooperatives created for the purposes of*:
Creating a source of credit at a fair and reasonable rate of interest;
Encouraging habits of thrift among its members; and
Providing an opportunity for its members to use and control their own money on a democratic basis in order to improve their economic and social condition.
*State of Iowa Code. Chapter 533.102: Definition of "Credit Union."
Dupaco Community Credit Union continues to pursue and fulfill its social mission to serve and enrich the lives of its more than 104,000 members. This ideal is as true today as it was in 1948, when 10 Dubuque Packing Company employees founded the credit union on the philosophy of cooperation and mutual self-help. For example:
It's your money. Dupaco is your credit union. Please tell lawmakers you want them for good.