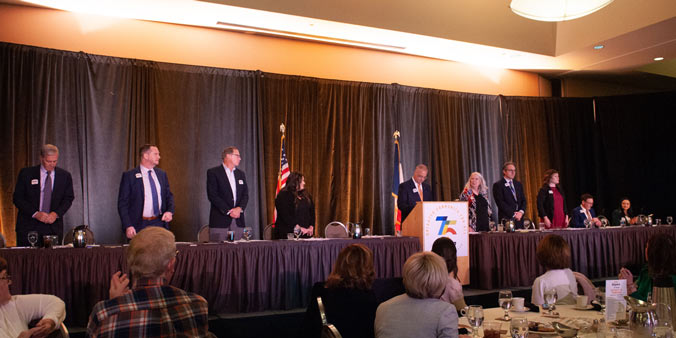 Ron Meyers, chair of Dupaco's volunteer board of directors, introduces his fellow board members as he kicks off the 2023 Annual Membership Meeting. (C. Rodewald/Dupaco photo)
Find out Dupaco's 2023 board election results
DUBUQUE, Iowa— During Dupaco Community Credit Union's 74th Annual Membership meeting held Sunday, March 5, 2023, Denise Dolan, Andy Schroeder and Bob Wethal were re-elected to serve three-year terms on the credit union's volunteer board of directors.
About the directors
Dolan has served on the Dupaco board since 1993. She is the retired Dubuque County Auditor and recently retired as the Dubuque County Treasurer in November 2022.
Schroeder has been on the Dupaco board since 2014. He is the Vice President of Digital Services, Prenger Solutions Group in Dubuque.
Wethal joined the Dupaco board in 2012. He is Vice President of Patient Care Services and Chief Nursing Officer for MercyOne Medical Center in Dubuque.
Officer appointments
Following the membership meeting, the board of directors held its re-organizational meeting. And these officer appointments were made:
Committee appointments
These directors were appointed to committee chair positions:
As a member-owned, democratically controlled cooperative, all Dupaco members have an equal say in their credit union. Each member has one vote, no matter how much money you have in deposits or loans at Dupaco.