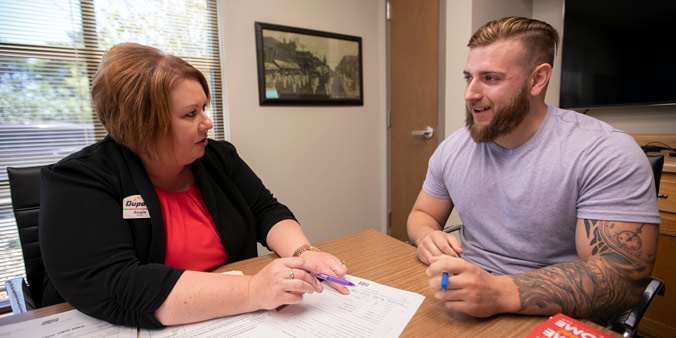 Dupaco's Angie Ries helps member Jon Sodawasser sign closing papers on the purchase of his first home Aug 16 at Dupaco's branch in Dyersville, Iowa. (M. Burley photo)
A member story: 'It's nice to be where I am now'
By Jon Sodawasser | Dupaco member
I felt like I was trapped.
I was living in my parents' house, and I never thought I would get out on my own. My family is close. We help each other, and I had been helping my family pay bills.
I knew I eventually wanted to pay for a house, but I didn't know where to go.
I started seeing other people switch to Dupaco. So I decided to check it out last year and applied for my first mortgage.
Not a member yet? Here's how to join >
I didn't get approved. But Angie Ries at Dupaco was able to point me in the right direction to get my credit score up. I didn't know about credit scores. I just knew I needed to have a decent one.
She told me how a credit card would benefit me. I was always afraid to get a credit card or a loan because I was afraid that I couldn't pay it off. But it wasn't that big scary monster that I thought it would be. If you're conscious about it, you can do it.
And it worked.
Not even a full year later, I got my credit score up.
I cried when I got approved to buy my first house.
I found an older house from around 1920. It has good character and needs a little elbow grease that I'm not afraid to do. I'm excited to call it my own.
Switching to Dupaco motivated me to get here. Everyone has been so understanding. And I don't feel like I could get that anywhere else.
It's nice to be where I am now.