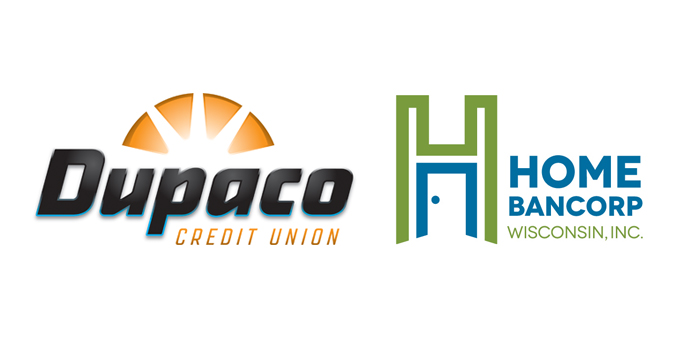 Dupaco Community Credit Union to acquire Home Savings Bank
DUBUQUE, Iowa, and MADISON, Wis.—Dupaco Community Credit Union will enhance service to its growing membership in southwest and central Wisconsin through an agreement to acquire the assets and assume the liabilities of Home Savings Bank, a wholly-owned subsidiary of Home Bancorp Wisconsin, Inc.
The proposed transaction will expand Dupaco's Wisconsin branch office footprint to Dane County, with the addition of two offices in Madison, Wis. The combination will result in an increase in Dupaco's asset base to approximately $2.8 billion, based on financial data as of June 30, 2021.
"For the majority of our 125-year history, Home Savings Bank was structured as a mutual institution, with a focus on serving our members and our community," said Jim Bradley Jr., board chairman and chief executive officer of Home Bancorp Wisconsin. "We're excited about the opportunity to return to those roots as a credit union."
Learn more about the purchase here >
According to Bradley, the current competitive marketplace and the increasing demands in the rapidly evolving financial services industry prompted bank management and the board to determine that combining with a larger organization was the optimal strategy for serving multiple stakeholders today and well into the future.
"We were attracted to Dupaco Community Credit Union's commitment to exceptional service to their members and their uncommon investment in the people and communities they serve," Bradley said. "We were impressed by the credit union's depth and breadth of history and success—we're honored to be part of their promising future."
Dupaco President and CEO Joe Hearn said the proposed partnership is an obvious cultural and geographic fit that will create enhancements for Dupaco members and Home Savings Bank customers.
"Dupaco and Home Savings Bank share similar values. Our combined organization will reinforce the foundation of a credit union that prioritizes the well-being of our members, employees and communities," said Hearn. "We recognize and value Home Savings Bank's 125-year history, leadership and local market expertise."
Hearn said acquiring the assets of a proven financial institution like Home Savings Bank—with established service channels and customers—will allow Dupaco to immediately serve existing and new members along the Dubuque to Madison economic corridor. Since 2002, the credit union has operated a branch in Platteville, Wis. Dupaco's 112-county field of membership already includes Dane County, Wis.
"The bottom line is that on day one, the partnership will provide a positive financial return to all members of our cooperative, while simultaneously adding two branch locations to enhance service to the thousands of Dupaco members who live and work in southwest Wisconsin," said Hearn.
The boards of directors of both companies have approved the proposed all-cash transaction, which is structured as a purchase and assumption. The proposed deal remains subject to customary closing conditions, as well as approval by Home Bancorp Wisconsin, Inc.'s stockholders and applicable credit union and bank regulatory authorities.
If approved, the financial transaction is expected to be completed in the second quarter of 2022. The core computer and member service conversion would happen after the financial closing is completed.
Olsen Palmer LLC served as financial advisor and Howard & Howard served as legal advisor to Dupaco Community Credit Union. Hovde Group, LLC served as financial advisor and Luse Gorman, PC served as legal counsel to Home Bancorp Wisconsin, Inc.