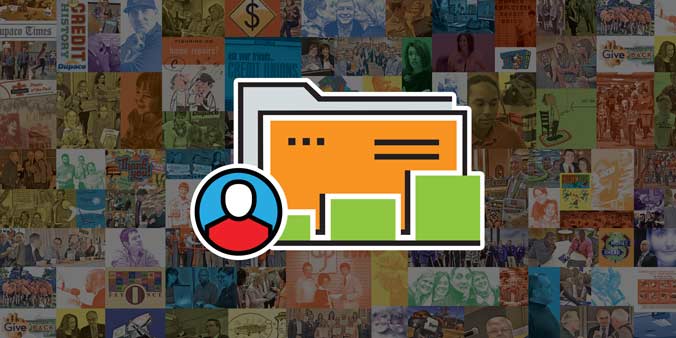 How to get ready for your virtual interview
By Matt Hostert
Dupaco recruiting specialist
There's a good chance your next job search will include a virtual interview or two.
We're in a changing time in our history, trying to keep everyone safe and healthy. And because of that, we're maintaining distance.
But we still want to stay connected.
Using technology to do interviews virtually allows us to continue to engage and interact with one another. That's what interviews are all about—getting to know each other.
Whether an interview is in person or virtual, some parts of the experience remain the same. But preparing for a virtual interview does involve a few different steps.
Follow these tips to land—and ace—your video interview so you can be one step closer to finding your dream job.
Preparing for a virtual interview
Know where to search for job openings
Not sure where to start looking?
Consider job search sites like Indeed.com. You can also reach out to local career connection organizations and employment search firms.
Don't forget to ask friends and family for their recommendations. Referrals are a great way to get first-hand knowledge from those you trust!
Create a professional virtual identity
Your email address or username will likely be the employer's first impression of you. And hiring managers notice when the email address or username is less than professional.
When it comes to your email address, keep it simple. Use your name or even a combination of your first and middle initials with your last name.
Need to brush up your resume? Learn how here >
Research the company
Whether you're interviewing in person or virtually, you want to find out what the company is all about. What are they passionate about? What do they believe in? What skills does the position require?
Take that information and reflect on it. Try to find comparisons in how your values, passions and skills align.
Then, on interview day, make sure to call out those similarities.
Develop questions before your interview
Always, always develop your questions before you meet.
Sometimes, job candidates think they'll come up with the questions during the interview. But that's not always the case. You've got a lot on your mind during the interview, and sometimes the questions just don't come to you.
Why is it so crucial for you to ask questions?
This might be the only opportunity for you to have an open-ended dialogue with the hiring team and get your questions answered.
This will be the information you rely on to decide whether to accept a potential offer. Take advantage of this opportunity and learn as much as you can!
Create a professional interview space
Make sure your interview space looks professional. Do you need to move anything out of the room temporarily?
Provide yourself a workspace that allows you to reference your notes and questions and take new notes.
If you share the space with others, plan ahead. Your interview should be distraction- and noise-free.
Test the interview software in advance
Test the video software before your interview. Don't put yourself in a situation where you're scrambling to get your software to work minutes before the meeting starts.
Things to test and consider include:
Microphone: Try to use a microphone. This will eliminate feedback and echoing during your conversation.
Lighting: Try to have the light of the room facing you. If the lighting comes from behind you, it will likely be difficult for the technology—and your interviewers—to see you.
Phone: If you're using a phone, don't try to hold it throughout the interview. (That will be distracting for everyone!) Figure out a way to prop your phone against something.
Camera angle: Consider the angle of your video camera. Try to set up the camera at eye level. This will help simulate a more normal communication experience.
Keep a charger nearby
Video software uses batteries faster on ALL devices. Keep your charger nearby in case your battery becomes depleted during the interview.
Dress for success
Imagine how you would dress for an in-person interview, and wear that!
Even though your viewers can only see you from the waist up, wear the complete outfit, including dress pants, dress socks and dress shoes.
It might seem strange, but not doing so can distract you and prevent you from feeling fully prepared.
After the virtual interview
Like interviews, some new positions are starting remotely with the help of technology.
But it's still important to feel part of—and connected to—your work team.
Here's the good news: Companies are getting good at being virtual!
They're planning first-day meet and greets with the team, providing new employees with a mentor, giving managers opportunities to check in with new employees more often and even hosting virtual hangouts to bring people together for watercooler conversations.
If you're curious about what your virtual onboarding will look like, ask your new employer what to expect. Here are a few questions you can ask:
How am I going to be trained virtually?
How will I meet the team?
How does the team stay connected?
What steps will you take to make sure I feel at home?
Talking through these questions will give you a sense of working for this team (virtually).