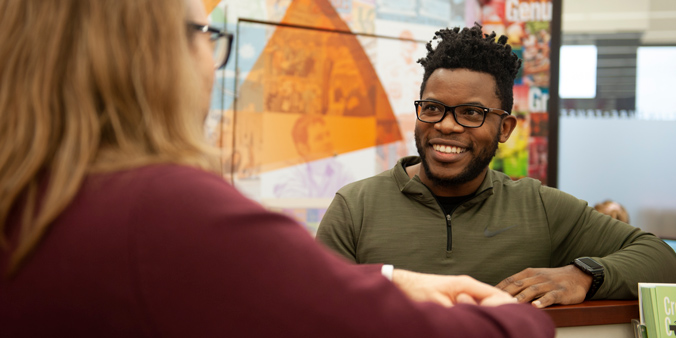 Member Temwa Phiri (right), of Dubuque, Iowa, meets with Dupaco's James Eppler during his Money Makeover at the credit union's Hy-Vee branch in Dubuque. (M. Blondin/Dupaco photo)
How 1 cooperative helps member help others
DUBUQUE, Iowa—Temwa Phiri has made it his mission to help others.
"Growing up, I always had people supporting me to encourage me to do better," the Dubuque man said. "It's only right for me to do the same for others so they can have the same opportunities I've had and more."
Phiri serves as a community engagement coordinator for the city of Dubuque, connecting residents with their community. Before that, he helped at-risk youth complete their high school diplomas or GEDs. He also serves as a health coach at the business he co-owns, Mindset Nutrition, where he empowers others to live healthier, more active lifestyles.
Along the way, though, Phiri realized he needed a coach, too.
And he's found one in Dupaco.
"When you're taking care of other people, you forget about yourself," he said. "So, it's nice to have somebody willing to take care of you, and Dupaco does a great job of that."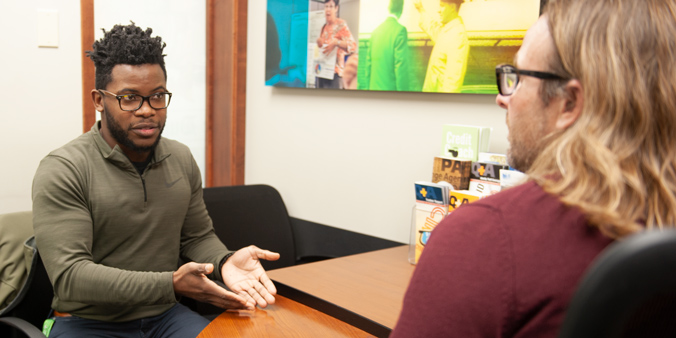 We're in the business of people helping people. Learn more >
'I'm glad I have Dupaco'
The financial cooperative has helped Phiri learn how to save more for not only himself but for his 1-year-old child. The father hopes to impart those same financial lessons to his son—how to save, manage his money and make his money work for him.
With the help of Dupaco's James Eppler, Phiri has saved even more by refinancing a couple of auto loans over the years. Both times, it significantly lowered his monthly payments and saved him thousands of dollars in interest.
"It was kind of jaw-dropping," he said. "James was able to help give my budget breathing room. Not only did it make me feel more comfortable and confident with my payments, but now I can use the extra money to invest in my business and my family."
Most recently, feeling stuck in a financial rut, Phiri turned to Eppler for a free Dupaco Money Makeover.
The experience was empowering.
"Meeting with James opened my eyes to see it wasn't as bad as I thought it was. He showed me where I was doing really well, and we created a plan to continue helping me move forward," Phiri said. "It's nice having someone check in on me and make sure I'm being taken care of. I'm glad I have Dupaco."