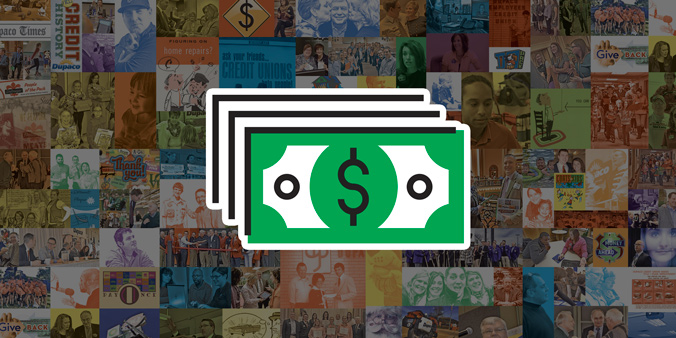 Did you know these money fun facts?
By Michael Poppen | Financial advisor
Rather than inundate you with more rhetoric on budgeting, retirement planning, life insurance and the like, we at Dupaco Financial Services thought it might be nice to start the year with some fun facts about money.
7 money fast facts
Here are a few of our favorites:
No. 1
The flu virus can live on a bill for up to 17 days!
No. 2
Parker Brothers prints about $30 billion in bills for its popular board game Monopoly every year.
No. 3
Today, 92% of the world currency is digital.
No. 4
The back of a $5 bill lists 26 states on top of the Lincoln Memorial.
No. 5
After World War I, Germans experienced a period of hyperinflation where the value of their currency plummeted. As a result, they used their bills as wallpaper.
No. 6
A penny costs more to manufacture than it's worth—costing the government about 2 cents to make one penny.
No. 7
It supposedly takes about 4,000 double-folds (back and forth) before a bill will tear. Which makes sense, as worn-out bills are shredded and recycled into shingles and fireplace logs!
Money consideration
With that, I'll leave you with a quote from Mark Twain: "The secret of getting ahead is getting started."
Whether your goal is financial or otherwise, the simple solution is to just get moving in that direction. The rest of it will come.
For a no-obligation consultation, contact Dupaco Financial Services at 800-373-7600, ext. 2305.
Your Dupaco Credit Union provides referrals to financial professionals of LPL Financial LLC ("LPL") pursuant to an agreement that allows LPL to pay Dupaco Credit Union for these referrals. This creates an incentive for Dupaco Credit Union to make these referrals, resulting in a conflict of interest. Dupaco Credit Union is not a current client of LPL for brokerage or advisory services. Please read the LPL Financial Relationship Disclosure for more detailed information.
Dupaco Financial Services is a division of Dupaco Community Credit Union — the financial home you own — so you can rest assured that you're working with an organization that will act with your personal interest in mind. Dupaco Financial Services works with a national, full-service securities brokerage firm, LPL Financial, to make available top-of-the-line investment and insurance information and opportunities.
Securities and advisory services are offered through LPL Financial (LPL), a registered investment advisor and broker-dealer (member FINRA/SIPC). Insurance products are offered through LPL Financial or its licensed affiliates. Dupaco Community Credit Union and Dupaco Financial Services are not registered as a broker-dealer or investment advisor. Registered representatives of LPL offer products and services using Dupaco Financial Services, and may also be employees of Dupaco Community Credit Union. These products and services are being offered through LPL or its affiliates, which are separate entities from, and not affiliates of, Dupaco Community Credit Union or Dupaco Financial Services. Securities and insurance offered through LPL or its affiliates are:

The LPL Financial Registered Representatives associated with this site may only discuss and/or transact securities business with residents of the following states: Iowa, Wisconsin and Illinois.