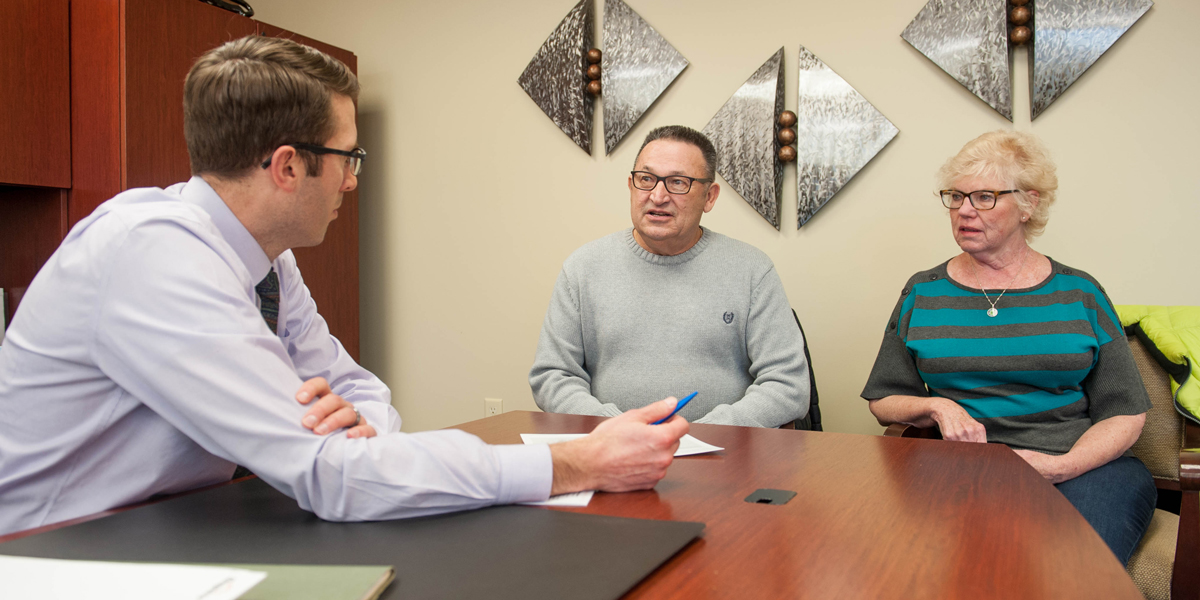 Dupaco members Wayne and Mary Konrardy meet with Michael Poppen from Dupaco Financial Services to talk about their investments at Dupaco's Pennsylvania Ave. branch in Dubuque, Iowa. (M. Blondin/Dupaco photo)
Pay Yourself First Before 'The Eagle Flies on Friday'
By Michael Poppen | Financial advisor
These days, most of us receive our wages biweekly, but decades ago employees were paid on a weekly basis.
At that time, there was no Friday direct deposit. Before credit and debits cards, one would grab whatever cash was needed for a weekend of fun.
In fact, a popular turn of phrase in the 1940s and '50s was, "The eagle flies on Friday!" This meant when things started hopping at the local joint, those coins and dollar bills (with minted eagles) would be trading hands quickly.
Some things never change.
Today, like years ago, after a productive week, we're ready for a night on the town! Although credit and debit cards have become the chosen means of payment, ordering some cocktails and perhaps a romantic dinner is still going to cost some coin.

Pay yourself first
Just remember, before you let those "eagles fly" on the weekend, pay yourself first.
Typically, it's best practice to salt some money away for personal savings, retirement, debt or any other financial objective.
An individual's or family's savings should equal that of three to six months of income to accommodate any emergency or contingency. A good rule of thumb for retirement is to set aside a minimum of 10% of your income.
And of course, it ideally makes the most sense to reduce or eliminate the debt that carries the highest interest.
Please check out the song "Stormy Monday," by T-Bone Walker, for a bluesy reference, and have a great summer!
For a no-obligation consultation, contact Dupaco Financial Services at 800-373-7600, ext. 2305.
Your Dupaco Credit Union provides referrals to financial professionals of LPL Financial LLC ("LPL") pursuant to an agreement that allows LPL to pay Dupaco Credit Union for these referrals. This creates an incentive for Dupaco Credit Union to make these referrals, resulting in a conflict of interest. Dupaco Credit Union is not a current client of LPL for brokerage or advisory services. Please read the LPL Financial Relationship Disclosure for more detailed information.
Dupaco Financial Services is a division of Dupaco Community Credit Union — the financial home you own — so you can rest assured that you're working with an organization that will act with your personal interest in mind. Dupaco Financial Services works with a national, full-service securities brokerage firm, LPL Financial, to make available top-of-the-line investment and insurance information and opportunities.
Securities and advisory services are offered through LPL Financial (LPL), a registered investment advisor and broker-dealer (member FINRA/SIPC). Insurance products are offered through LPL Financial or its licensed affiliates. Dupaco Community Credit Union and Dupaco Financial Services are not registered as a broker-dealer or investment advisor. Registered representatives of LPL offer products and services using Dupaco Financial Services, and may also be employees of Dupaco Community Credit Union. These products and services are being offered through LPL or its affiliates, which are separate entities from, and not affiliates of, Dupaco Community Credit Union or Dupaco Financial Services. Securities and insurance offered through LPL or its affiliates are:

The LPL Financial Registered Representatives associated with this site may only discuss and/or transact securities business with residents of the following states: Iowa, Wisconsin and Illinois.