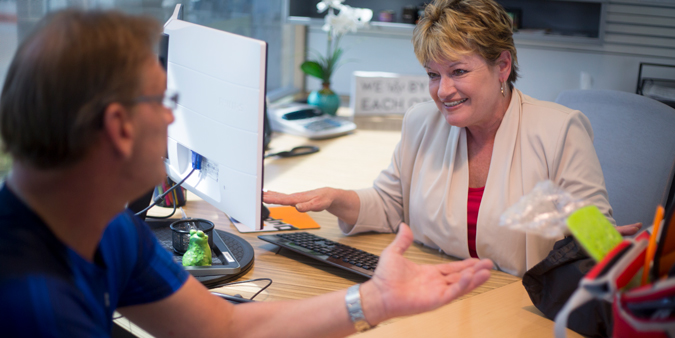 Dupaco's Terrie Smentek meets with Dupaco member Ralph Freese, of Wall Lake, Iowa, at Dupaco's San Marnan Learning Lab in Waterloo, Iowa. As Freese was being wheeled into the operating room following an unexpected fireworks accident, he phoned his credit union to express concern over paying his Dupaco auto loans while he was out of work. He says it was Dupaco's willingness to help at every turn that put him at ease and allowed him to focus on getting healthy. 
How to prepare for unexpected financial challenges
Updated Sept. 1, 2022, at 9:50 a.m. CT
Taking action today can help us prepare for emergencies that could impact us tomorrow.
Whether it's job loss, divorce or a medical emergency, financial hard times can strike when we least expect it.
"I do believe most know how important it is to have a plan in place to prepare for emergencies," said Lisa Elskamp, member solutions manager at Dupaco Community Credit Union. "However, I think we don't make it a priority to have the plan in place. Most of us don't think it will happen to us."
There's no such thing as being over-prepared for tough times, Elskamp said. Here's how you can prepare to lessen the impact of a financial crisis:
3 tips to help you prepare for financial hard times
Review your budget
Start by writing down all of your expenses—rent or house payment, car payments, insurance premiums, utilities, school costs, groceries, everything. When you see your expenses on paper, it's easier to determine where you might need to cut expenses to save more.
"It's amazing how just by holding yourself accountable will help you save," Elskamp said.
And you don't have to do this alone.
Dupaco offers the tools you need to prepare. Utilize Dupaco's free Money Makeover to review your budget. Or, request a free Credit History Lesson to understand your credit score and how it impacts the interest rates you pay.
Pay yourself first
When you review your budget, one of your expenses should be paying yourself first.
The best way to build an emergency fund is to have a pre-determined amount automatically come out of each paycheck—before you see it—and into a savings account, Elskamp said.
Your emergency fund should ideally be at least three to six months' worth of expenses. But the most important thing is to start saving. Even if it's a small amount.
These tips can help you save more automatically >
Lean on your credit union
If you find yourself in a financial crisis, don't be afraid to reach out to your credit union.
"We are here to help you with all your financial needs," Elskamp said.
Whether it's a job loss, medical emergency or divorce, Dupaco's Member Solutions team works with members on possible solutions. This might include payment plans, helping you keep your home or vehicle, or helping you determine your best options.
"We believe the only mistake you can make is to not communicate," Elskamp said. "We understand things happen to good people, and we are here as a resource to help you when these financial hard times strike."