What you need to know about ATM skimmers
The discovery of a fraudulent ATM card skimmer found on a Dupaco ATM on December 17 in Dubuque, Iowa, serves as a reminder that fraud comes in all forms.
"Dupaco continuously inspects its branch ATMs, however, fraudsters can install and remove a skimming device to any ATM within a short period of time," says Todd Link, senior vice president of risk management and remote delivery at Dupaco.
As a result, he said its good practice to be cautious when using any ATM or self-service payment kiosk, like gas pumps.  "When one skimmer is found in a community, there's a good chance there may be more popping up."
Skimming devices are sometimes easy to detect, while others are fairly sophisticated, Link says.
What's a card skimmer?
A card skimming device is a piece of equipment fraudsters attach over card readers at ATMs or self-service payment kiosks at gas pumps, parking garages and elsewhere.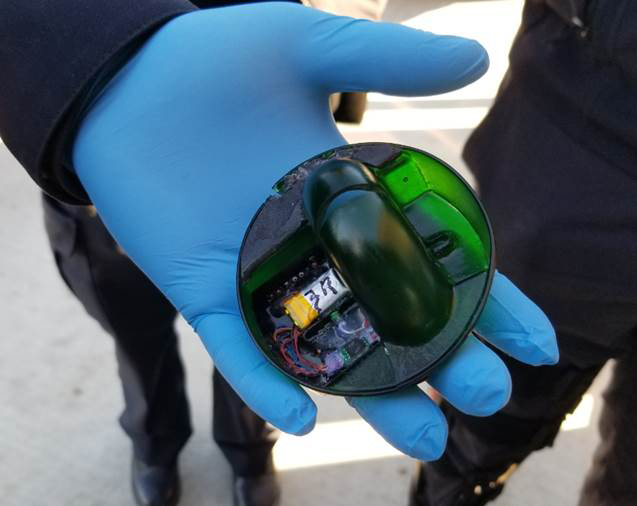 During the legitimate transaction, a card passes through the skimming device that illegally captures the card number. Criminals may also install a camera nearby to simultaneously record the cardholder's PIN as it's entered. Thieves then retrieve the card skimmer and the stolen card information.
How will Dupaco communicate to impacted cardholders?
Link said that Dupaco will notify all of its members who used the machines during the suspected time period and re-issue their debit/ATM cards. Meanwhile, ATM transaction processer Shazam will notify financial institutions of non-members who used the ATM.
Follow these simple steps to catch identity theft early so that you can minimize the damage and restore your good name.
Change your PIN number
If you think you may have been affected by the recent card skimmer, it's a good idea to change your debit card PIN number as soon as possible. To re-PIN your card, call 888-891-2435 from the phone number Dupaco has listed on your account. You will need to enter the following information to complete your updated card PIN:
Full Card Number
Last 4 digits of your SSN
3 digits on the back of the card
Monitor your credit report
Through Bright Track inside Shine Online Banking, you can access your full credit report and your credit score as often as you wish. Access to Bright Track is a free benefit of Dupaco membership. Regularly monitor your credit report to keep an eye out for any fraudulent activity. Dupaco advises reviewing your credit report every month.
Monitor your accounts regularly
Monitor your transactions every day using Dupaco's free eNotifiers to alert you by text and/or email of activity on your accounts. If there has been fraudulent activity, you'll be the first to know.
"I would encourage all members to receive eNotifier text alerts to detect fraud in real time," says Link.
Learn how to set up Dupaco's eNotifier alerts >
Consider purchasing Family ID Restoration coverage
Dupaco partnered with Deluxe to offer its members Family ID Restoration coverage, which gives members additional resources to help detect and respond to identity theft and fraud.
Get started with Dupaco's Family ID Restoration coverage >
Quickly disable your Dupaco cards in Shine
Easily prevent unauthorized use of your Dupaco debit and/or credit card using our new Card Security option. This feature enables you to quickly disable your Dupaco debit and/or credit card from your device. Once disabled, your card will remain unusable until you reactivate it again. You can access this feature via the Account Safety tab located on your Accounts menu.
"I strongly encourage members to turn off debit cards if they do not plan to use the card for a longer period of time," says Link.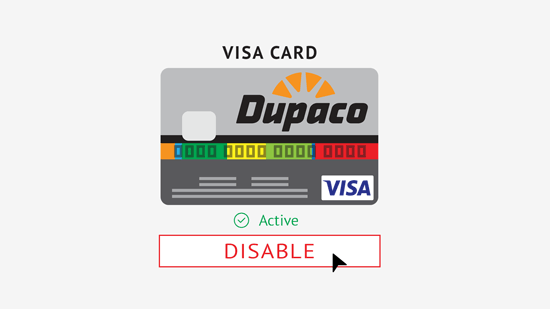 How to spot a card skimmer
Before you insert a card into any ATM or self-service payment kiosk, look at the plastic surrounding the card reader. It should look permanent and professional and all pieces should be securely affixed to the machine, not loose. You should NEVER be able to remove any cover that's on the card reader.
Be alert for any pieces attached to the machine that looks out of place or as if they are not part of the originally manufactured machine.
Also, businesses and financial institutions do not point a camera toward the keyboard.
What to do if you are suspicious
If you are suspicious that an ATM or a self-service payment kiosks has been tampered with, DO NOT use the machine, and contact your local law enforcement immediately.
If you believe you are the victim of fraud or identity theft, please contact Dupaco immediately at (563) 557-7600 / 800-373-7600.