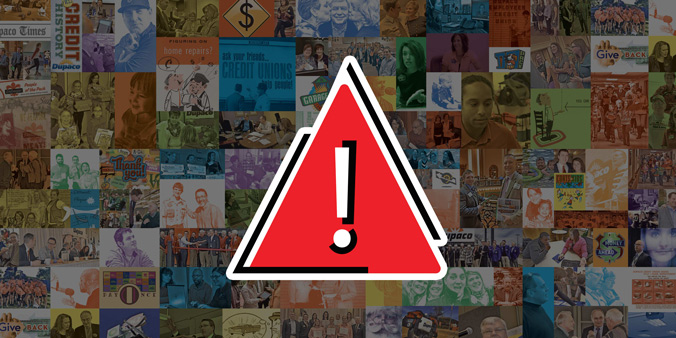 Did Dupaco really send that to you? Learn how to spot a fake
Updated April 8, 2021, at 2:20 p.m. CT
If you've received a postcard, letter or text concerning your mortgage lately, the sender might not be who you think it is.
Several Dupaco Community Credit Union members, including credit union employees, have received postcards alerting them to "an important matter" concerning their Dupaco mortgage. Recipients are encouraged to call a toll-free number regarding the "time-sensitive" issue. Others have received a text message, saying that their loan "has been approved."
Here's the catch: Dupaco did not send the mailings or texts. And the mortgage information wasn't provided by your credit union.
Learn how to spot these messages so you can protect yourself from the work of questionable companies and scammers.
What the mailings look like
These postcards might state something like this:
IMPORTANT NOTICE:
RESPONSE NEEDED
You have recently closed on this mortgage with DUPACO COMMUNITY CU. We need you to please call us about an important matter regarding this loan. This is time sensitive so please call us at … as soon as possible.
Here's an example of the mailing: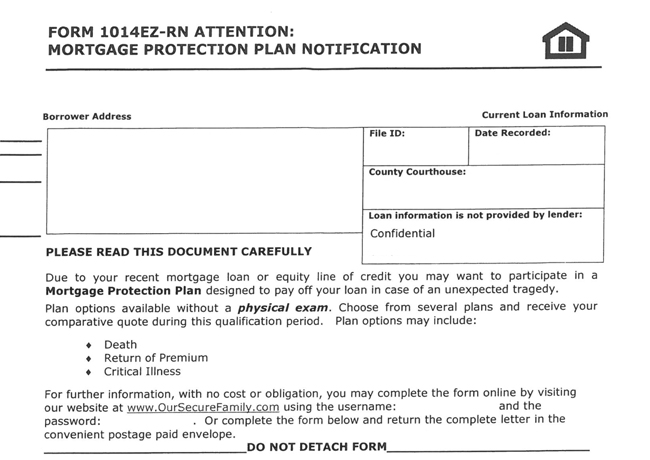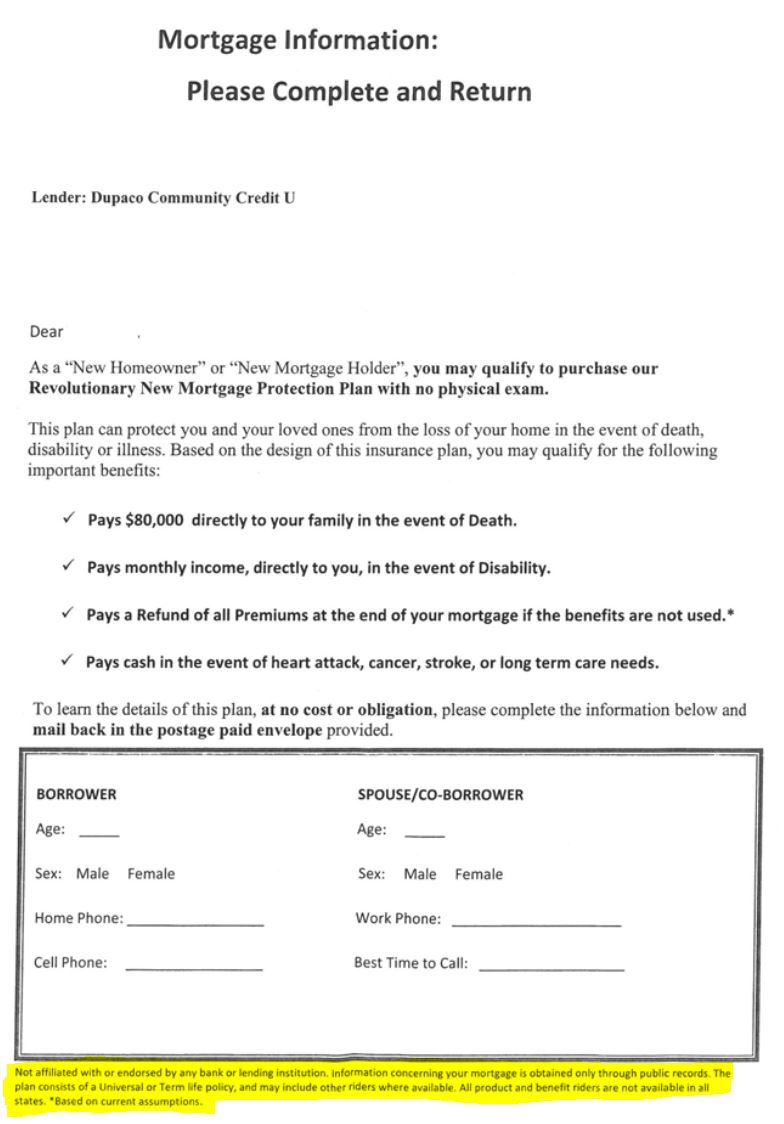 The letter also includes a mortgage ID number, looking extra official.
But when you read the fine print, inconspicuously located at the bottom of the mailing, you learn that the information was provided by Mortgage Protection Services, NOT your credit union.
"By putting Dupaco in big black letters, people might not realize the card is coming from another company," said Pat Slattery, vice president, compliance specialist at Dupaco. "They're vague about everything, because they want a shot to sell you their mortgage insurance."
Slattery received a postcard five years after he closed on his home loan.
"Dupaco is not endorsing this company in any way, shape or form," he said. "And Dupaco offers our own Payment Protection for loans."
What the texts look like
Other Dupaco members have received text messages that appear to come from the credit union.
The text might say something like:
Hi, (your name) your loan at DUPACO COMMUNITY CU has been reviewed. The report on (your address) is ready. Go to …  
The text instructs you to click a link to access the report.
Here's an example of the text: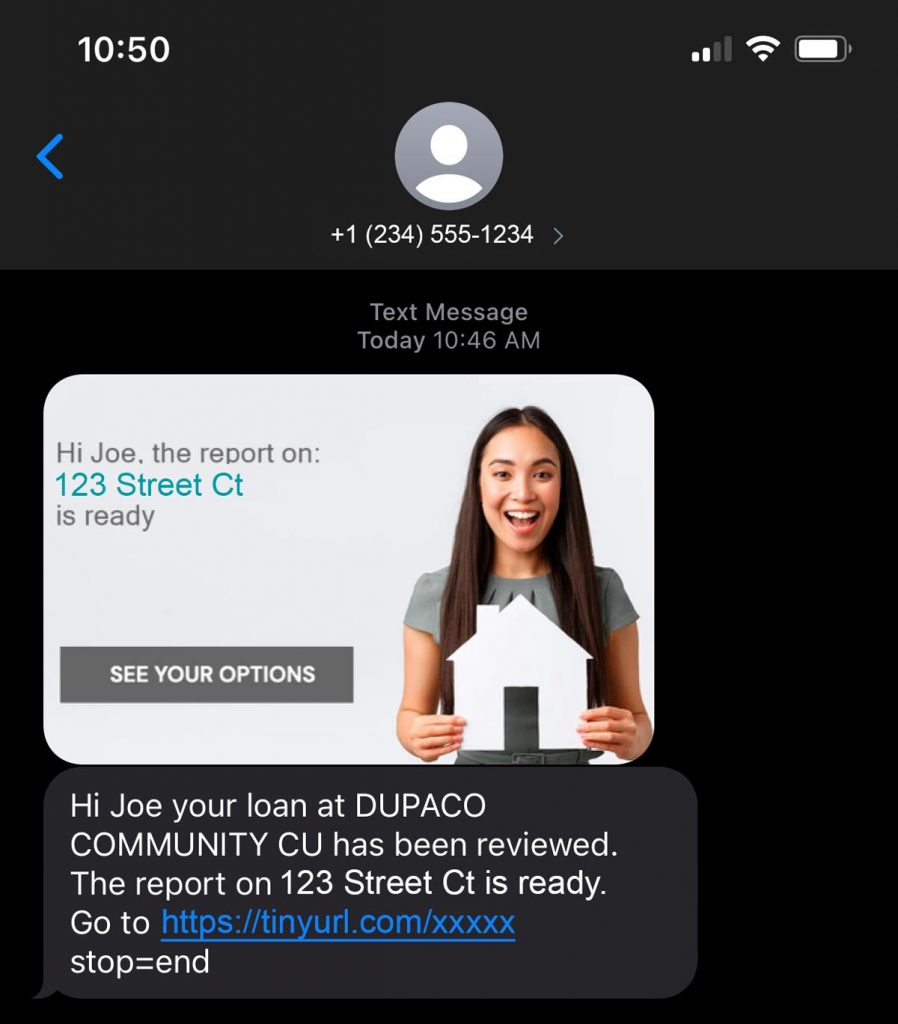 Please use extreme caution if you receive a text message like this. Don't click the link, said Jill Gogel, assistant vice president, fraud services at Dupaco.
Dupaco did NOT send this text to you.  
If you call the number
The number provided on one postcard connects you with a company that calls itself Mortgage Protection Services.
An automated recording prompts you to provide the mortgage ID number listed on your mailing. Through computerized prompts, you're told where your mortgage is held and when it was filed. The message states that records show you were never offered mortgage payoff protection when you closed on your mortgage.
"Dupaco does provide this. But they would have no way of knowing whether you were offered it," Slattery said. "It's a sales tactic."
The message then prompts you to provide information about yourself.
How these companies get your info
Mortgages are public record, so companies can search recorded mortgages and target homeowners to solicit their product, Slattery said.
"It's the shotgun approach," he said. "Throw a bunch out there, and maybe they'll sell some product."
This isn't the first time Mortgage Protection Services has done this.
In addition to several negative online reviews, there is a cease and desist order in Massachusetts for the same company using the same sales tactic.
What you can do
It's important to remember how Dupaco will communicate with you.
Your credit union uses a variety of ways to communicate directly with members, including U.S. mail, phone, email, messages within Shine Online and Mobile Banking and more. But Dupaco does not send you private information on a postcard.
"That's not something you should do from the credit union's perspective," Slattery said.
Learn more about how Dupaco communicates >
When in doubt, call Dupaco directly.
Want to take further action? If you've received one of these mailings or texts made to look like they came from your credit union, you can file a complaint. Get started with the Iowa Attorney General's Consumer Protection Division.