Coggon couple kick the credit card cycle for good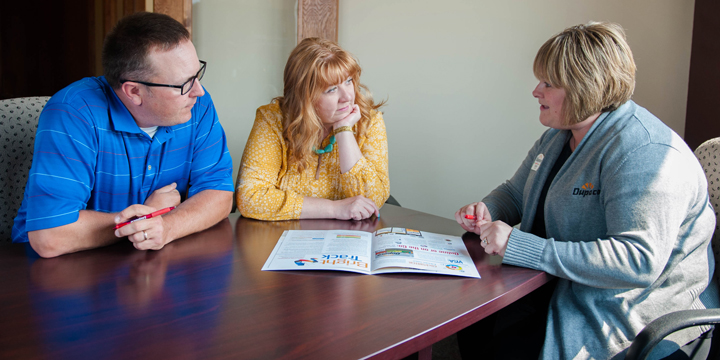 With their oldest son heading to college in five years, Heather and Dave Stanley knew it was time to confront their credit card debt. They wanted to put their family of four in a better financial position.
The Coggon couple decided to give Dupaco a try, scheduling a free Money Makeover at the credit union's Manchester branch.
Not only did the Stanleys leave with a plan to tackle their debt, they also learned invaluable budgeting and saving strategies to help them kick the credit card cycle for good.
"It can be overwhelming to talk about money," Heather said. "Dupaco made it easy. Our only regret is we didn't do this years ago."
Confronting the credit card debt
After reviewing the couple's financials, Dupaco's Carrie Crane and Megan Francois crafted a plan to consolidate the debt with a home equity line of credit and a personal loan—saving the couple hundreds of dollars in monthly payments.
The savings didn't stop there.
Reviewing their budget also uncovered leaks, prompting the Stanleys to move their auto insurance and renegotiate their internet package.
Dupaco helped the couple put those savings to work, establishing multiple savings accounts for the things that matter most to them.
"We weren't savers. Now, we're so happy to be putting more away each month into savings," Heather said. "We love the way the savings come out automatically every time we get paid, so we don't even have to think about it."
The Stanleys have made Dupaco their financial home.
"They treat us like neighbors and friends. They want to see us have more financial freedom, and that's so empowering," Heather said. "From the first conversation to signing the loan papers, it really felt like a partnership. Real people helping real people."