Dupaco MoneyMatch helps member buy first home
Tami Paisley is proof positive of the power of partnerships.
Thanks to a collaborative effort between Dupaco Community Credit Union and local nonprofit organizations, the single mother of two has traded her cramped apartment for the first home she's ever owned.
"It feels good. I appreciate everything the city and Dupaco have done to get me here. I'm so happy here," Paisley said.
The journey to homeownership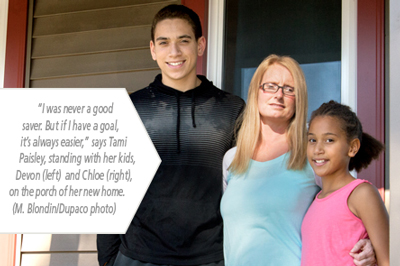 Paisley is the latest successful participant of Dupaco MoneyMatch—the savings account that matches your effort.
It's an Individual Development Account in which the savings of a participant are matched by a grant from the Dupaco R.W. Hoefer Foundation. The savings and matching funds help purchase a specific wealth-building asset.
Learn more about Dubuque's program >
Paisley used MoneyMatch to help purchase a three-bedroom home in downtown Dubuque earlier this year. But it's not just any home. It's a symbol of the strength of community partnerships.
The Housing Education and Rehabilitation Training program renovated Paisley's property. HEART, which receives financial support from Dupaco, teaches at-risk high school students trade skills through community-revitalization projects.
Thanks to those behind HEART, the once-rundown house looks brand-new. The home boasts a beautiful front porch, new siding, hardwood floors, a kitchen island and "the coolest chandelier"—breathing new life into not only the home but the neighborhood as well, Paisley said.
Paisley's only regret is that she didn't access these community-driven programs sooner.
She was struggling to scrape together a down payment on a home when she turned to MoneyMatch in 2014. The program forced her to systematically save. The empowering experience showed her that homeownership was possible after all.
"Now I know that you can put money away to get something you want in life—whether it's a car, home or college," Paisley said. "If I can do this for the house, I should be able to put away money for college funds for the kids."