Auto Loans
In the market for a new ride? Before you start shopping, it's a good idea to get pre-approved so you can go out and find a vehicle that fits both your needs and your budget. Take our auto loan payment calculators for a spin and complete your pre-approval application with some basic information—and we'll help get you on the road to start shopping!
Revved up yet?
Apply online receive an instant 24-hour approval*!
*Approval subject to credit qualification. Response times may vary. In some instances, members may be asked to contact the credit union before a decision is made on their application.
Auto loan pre-approval: Shop smarter with a pre-approved auto loan
Looking for a vehicle, but not sure what your options are? Spend a little time with a Dupaco lending consultant, and check out some of our nifty resources, before buying your new or used vehicle, and you'll spend a lot less on financing! Our pre-approval process helps you shop smarter by setting a budget from the start, narrowing down your choices and saving time as you shop. Here's what you can expect when you apply for a pre-approval today:
Complete your pre-approval application in less than 10 minutes. In a hurry? Log into your account on Shine Online Banking, and you'll be done in 5!
To fill out the pre-approval application, we only need some basic information that gives us an idea on what kind of vehicle you're looking for. Once approved, a lender will discuss your financing options based on the information you have provided.
A Dupaco lender will be in touch with you shortly after the pre-approval application has been submitted to discuss your budget and financing options.
While you're at it, request a free Money Makeover, and you could free up extra cash and potentially save thousands.
Still have questions about the pre-approval process? Check out our FAQs below.

Your auto loan financing and refinancing options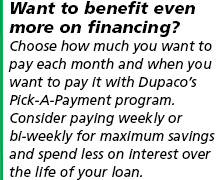 Choose from several ways to finance or refinance nearly any type of vehicle. When you bring an existing loan, currently financed with another lender, back home to Dupaco, you'll receive a great Dupaco rate, and a variety of loan terms to choose from, with personalized service you can count on. Dupaco is a not-for-profit credit union with better-than-traditional rates among the area's best. Plus, lower your loan rate through our Cooperative Loan Giveback, which rewards you with rate discounts for your credit union loyalty. See the Rates tab below for more information.
Dupaco makes applying for an auto loan a painless process, with several appointment choices. Simply give our Consumer Loans department a call at 800-373-7600 / 563-557-7600, extension 202, or stop into your nearest branch!