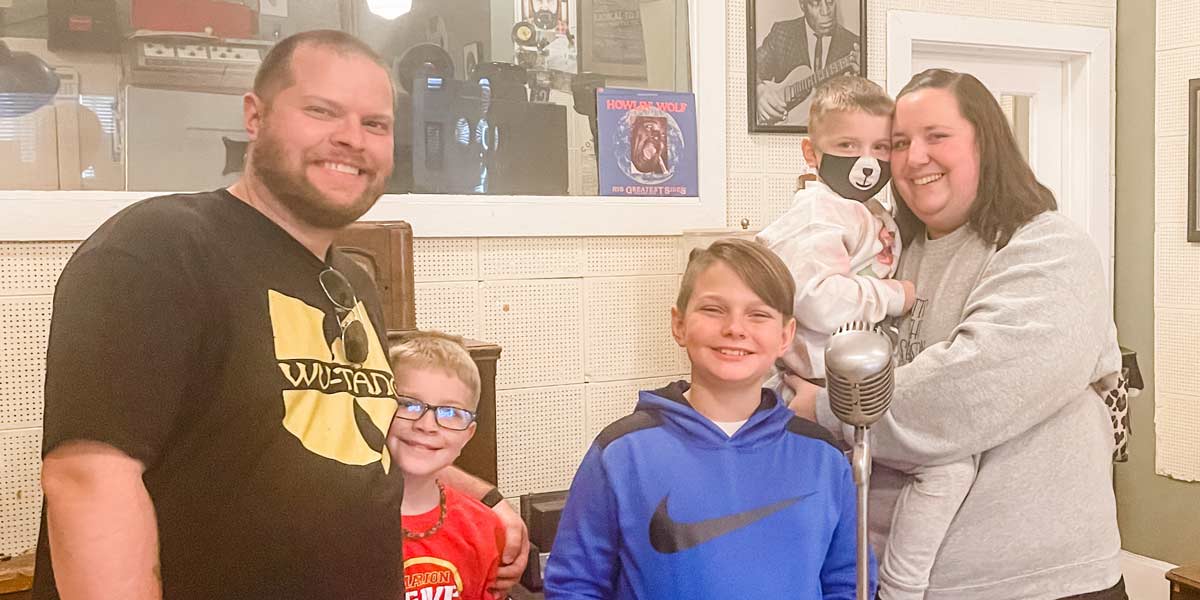 Doug and Danielle Fortmann, of Marion, Iowa, explore Sun Studios in Memphis, Tenn., with their sons Declan (from left), Draven and Finn during a recent family road trip.
Picking up the pieces after crash totaled family's only vehicle
MARION, Iowa—Danielle Fortmann walked away from a multi-vehicle crash with broken ribs—and the sinking realization that her family's only vehicle was totaled.
Narrowly missing the collision was Dupaco's Jennifer Olmsted. As the women talked at the accident scene, they realized they knew each other. The Dupaco employee had once helped the Marion woman join the financial cooperative.
"It was a sigh of relief that she was there," Fortmann said. "I had never been in an accident before, so to have a familiar face in that time was comforting."
Guidance every step of the way
Before parting ways, the women hugged. And Olmsted told Fortmann to reach out if she needed anything.
A few days later, they reconnected at Dupaco's Marion Learning Lab. Fortmann and her husband, Doug, needed a car for their family of five.
They worked together to create a plan to replace the Fortmann family's totaled vehicle that week.
But Olmsted also coached the mom on building her credit so she could eventually get into a lower-rate auto loan.
"Jennifer went out of her way to see what Dupaco could do to help us," Fortmann said. "Dupaco has been there for us during the last year every step of the way."
Ready to build your credit? Let's talk! >
Paving the way for new memories
Today, Fortmann's credit score is on the rise. It allowed the family to buy a new, more reliable vehicle to get them where they need to go—and create new memories along the way.
The family recently returned from a week-long road trip, exploring places they had never experienced together: Tennessee, Alabama and Louisiana. The parents surprised their children with the trip as a Christmas present.
"That car got us through the trip," Fortmann said. "There wasn't a moment where I wished I could go home now. We made a lot of memories. And now we're planning to make yearly trips like that. We want to go to different places every time."