Community-Wide Garage Sales
Why does Dupaco sponsor the garage sale event? As a credit union, Dupaco is about people, thrift, and the community. That's also what the Community-Wide Garage Sale is about, and why it's a perfect fit for us.
Save these dates
The 2014 Community-Wide Garage Sales will be held:
Saturday, April 26 in Dubuque & Manchester, Iowa
Saturday, May 10 in Platteville, Wis.

Mark your calendar
If you will be hosting a garage sale, please check back to this site in March to register your sale.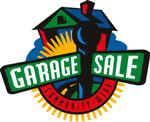 As part of the event, area residents are encouraged to participate in either of the following ways:
Host a registered sale. Those who host a sale as part of the Community-Wide Garage Sale and register their sale in advance (either online or at any Dupaco Community Credit Union location) will receive a complimentary Garage Sale Kit, available for pickup at any branch location. All registered sale locations will be included in a Community-Wide Garage Sale Shoppers' Directory. Registering a sale is absolutely FREE, and is a community service made possible by Dupaco and garage sale sponsors in each community.
Shop at local garage sales. As garage sales are registered, their locations—along with a description of sale items—can be viewed online. Printed directories, including a map of registered sale locations, sale times and descriptions, will also be made available.