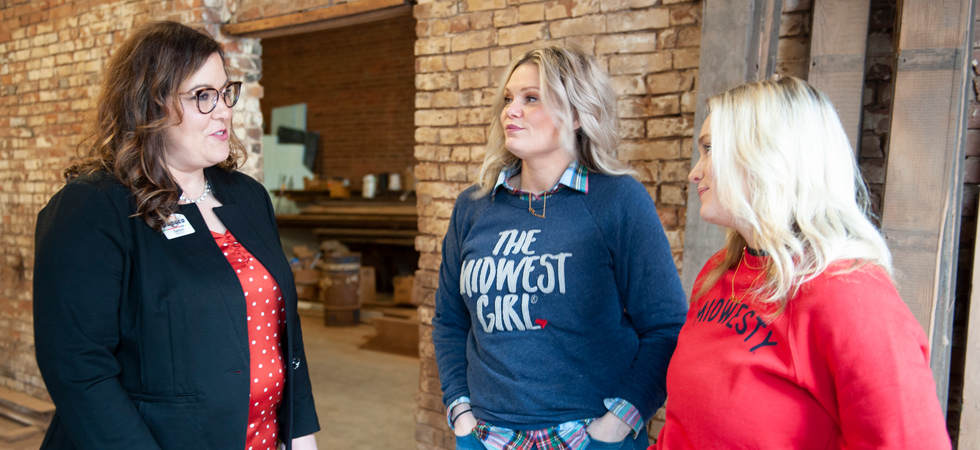 DUBUQUE, Iowa—Sisters Marissa Hoffmann and Marah Odgers have always been proud of their Midwest roots.
It's home.
And through their Dubuque business, The Midwest Girl, they've learned how much others love calling it home, too. The Wisconsin natives sell t-shirts, sweatshirts and more—all paying homage to the Heartland.
"It truly feels like the pride runs so deep here compared to anywhere else," Hoffmann said. "We don't just sell t-shirts. We share our story, and we hope that by sharing our experiences, others can relate and feel their story being honored and celebrated."
The Midwest Girl takes root
The sisters launched their business as a boutique on wheels about five years ago. It was a low-investment, low-risk way to test the waters, selling Midwest Girl shirts and boutique clothing at pop-up locations.
By the next year, they were ready to trade their 6-by-12 travel trailer for a storefront on Fourth Street, furnishing their space with thrifted and gifted decor.
They knew they wanted Dupaco by their side as they continued to grow.
"I have banked with Dupaco since getting my first job," Hoffmann said. "It's always a friendly atmosphere."
The sisters turned to Dupaco's Tanya Moore, who helped them establish a line of credit for their business.
Since the beginning, Moore has believed in their business, provided financial guidance when needed and, like other Dupaco employees, patronized their store.
"You just don't forget kindness, and that's always shown to us at Dupaco," Hoffmann said. "They believe in us and our big dreams and have never treated us small."
The store sells apparel for newborns through size 3X in women's, carrying something for every Midwest Girl.
Hoffmann, of Dubuque, manages the retail and social media, while Odgers oversees product development from Mt. Horeb, Wis.
Growing with Dupaco
Consistency and resourcefulness have allowed them to grow their brand steadily.
Today, stores across the Midwest sell their apparel. And to keep up with the growth, the sisters are moving their business to a bigger location in the resurging historic Millwork District this spring.
"Being able to grow our brand and support ourselves has been one of the best moments in owning our business," Hoffmann said. "And I absolutely see us growing with Dupaco. The credit union has our best interest in mind always."